Victorious BvH Ladies take team honours in a historic day for the Club..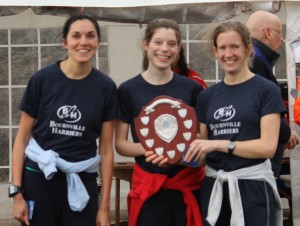 BvH Ladies turned out in force for the Warwickshire County AA Cross Country Championships held at Solihull.
We witnessed some great performances by the Ladies team and were rewarded for thier effort by winning the Senior Ladies title for the first time in the Clubs history!
Both Linda Howell & Marianne Hensmen were also invited to represent the County at the Inter-Counties XC on the 10th March which will be held at Cofton Park in Birmingham.
Congratulations to all the BvH Ladies who participated.
BvH Results
| | | | | | |
| --- | --- | --- | --- | --- | --- |
| Pos | Time | Name | A/Cat | No | Overall |
| 7 | 0:23:37 | HOWELL, Linda | SF | 415 | 8 |
| 11 | 0:24:09 | HENSMAN, Marianne | SF | 417 | 14 |
| 18 | 0:25:39 | HOLLIDAY, Kathryn | SF | 426 | 27 |
| 19 | 0:25:53 | LESLIE, Laura | SF | 419 | 30 |
| 20   | 0:25:59 | ROCK, Sarah | SF | 416 | 31 |
| 21 | 0:26:21 | HEATH-BROWN, Fiona | SF | 423 | 33 |
| 23 | 0:26:52 | HAMPSON, Becky | SF | 424 | 39 |
| 24 | 0:26:58 | DELAHAYE-SLATER, Julie | SF | 421 | 40 |
| 25 | 0:27:40 | CUMLEY, Nicola | SF | 418 | 43 |
| 28 | 0:28:25 | GALLAGHER, Anne | SF | 422 | 52 |
1st: Bournville Harriers
Pos Time             Name                                   
7     0:23:37          HOWELL, Linda                   
11   0:24:09          HENSMAN, Marianne       
18   0:25:39          HOLLIDAY, Kathryn         
36   1:13:25          Totals
5th: Bournville Harriers B
Pos  Time            Name
19    0:25:53         LESLIE, Laura                     
20    0:25:59         ROCK, Sarah                        
21    0:26:21         HEATH-BROWN, Fiona    
60    1:18:13         Totals
6th: Bournville Harriers C
Pos   Time           Name                                         
23    0:26:52         HAMPSON, Becky                   
24    0:26:58         DELAHAYE-SLATER, Julie  
25    0:27:40         CUMLEY, Nicola                      
72    1:21:30         Totals
Photos by Caroline Harlan-Marks here
Results here