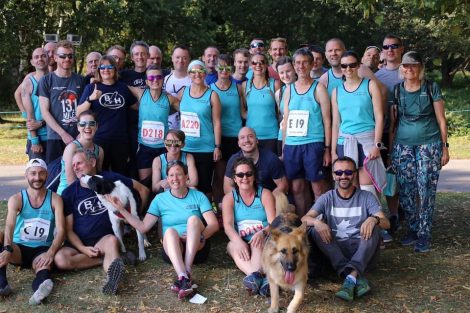 Are you looking for friendly, encouraging people to run with? People who can help you with motivation, training advice and just enjoying the benefits of running?
Whether you are a regular competitor looking for a new club and a new challenge or just starting to run, we invite you to run with us and find out why Bournville Harriers is the running club for you. We aim to provide the following benefits:
A welcoming and friendly club – supportive of runners of all abilities
A great 'camaraderie' team spirit
Six official club training sessions every week
Established training routes with Strava maps
Qualified coaching team
Organised club events throughout the year
Great social activities
Internal 'Teal Targets' club championship focused on local events
Free car park, changing facilities and licensed bar at the Rowheath Pavilion
Race entry for road relays and cross-country team events paid for by the club
Range of discounted Bournville Harriers training kit
Regular talks/advice on different aspects of running and training
Opportunities to be actively involved in coaching and the management of the club
Many of our members have years of experience, have competed at the highest level and are willing to share advice to improve your running experience. Our team of qualified coaches can provide support and guidance to enable you to achieve your own personal goals.
We all share a common aim – the desire to run, to improve our performance and enjoy the experience of running!
There's no need to join the club immediately, as we'd prefer you to come along and run with us for a few weeks to help you decide if we can give you the running experience that you seek before parting with your hard-earned cash.
If you are planning to join us for a run, PLEASE CLICK HERE to complete our enquiry form so that we can ensure you have someone of a similar pace to run with during your first few sessions.
If you've already decided that you want to join, please continue to this page – Joining as a New Member.
For reasons of safety, it is advised that you can complete five miles within one hour when joining us for our Monday night club night. However, if you are a new runner or not quite at the 5 mile/hour level, please get in touch with our coaches as we do offers coached sessions suitable for beginners, as well as our beginners' course that runs over the summer.
The club can only accept members who are over 18 years old.
If you have any further queries, then feel free to contact us here.
Details of how to find us can be found here.
Please note that only paid-up members of Bournville Harriers are covered by the club's insurance, so if you come along for a run with us before you join, you agree to undertake this at your own risk.

The officers of Bournville Harriers Running Club cannot be held responsible for existing medical conditions or any detrimental effect on the health and well-being of an individual as a result of involvement in club activities.