The Bournville Harriers Guide to parkrun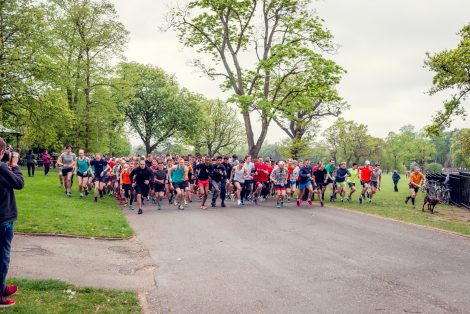 parkrun (yes that's a small p; #allonewordalwayslowercase) started life in 2004 as the Bushy Park Time Trial, with just 13 runners taking part in the first event. Now in 15 countries, with over a thousand events and more than two million registered runners* the parkrun phenomenon is based on a very simple concept – you register once, print your barcode, then turn up to run (or walk, or volunteer) at one of the free, timed 5k events every Saturday morning (or for juniors there are 2k events on a Sunday). Your time is recorded as you cross the finish line, then you're given a token which corresponds to your finishing position, which is scanned along with your barcode by one of the volunteers. Later that day you get a text and/or email with your result. It all works well (most of the time) as long as you stay in your finishing order once you cross the line (until you have your token) and of course, Don't Forget Your Barcode (DFYB)!
parkrun is all about inclusivity, which is why there are no winners (although you can be a first finisher!), no cut-off times, and it's always described as "a run not a race" (no-one needs to know that as a middle-aged woman you're always 'racing' that 12-year old boy in a Villa shirt… unless you let it slip of course!) You can have an easy run one week, strive for a PB (personal best) the next week or pace a friend… it's your parkrun! Once you've started parkrunning it can become a bit addictive as you strive first for your 50-club t-shirt (or 10 for juniors) and then your 100, 250 and 500-clubs, or don the high-vis 25 times for a volunteer club t-shirt. Lots of elite athletes like to get a parkrun in too as part of their training or as a test of their fitness; proving that inclusivity cuts both ways. The global parkrun records are currently held by Andy Baddeley (13:48) and Charlotte Arter (15:50)!
Our local, 'home' parkrun is Cannon Hill, and there's always a great welcome and lots of support for Team Teal there, but many of our members are regulars at other parkruns locally or like to get involved in a bit of 'parkrun tourism' (our first member of the 250-club, Lesley Pymm is a regular runner at Perry Hall parkrun and also a West Midlands 'regionnaire'). parkrunners who have done all their runs at their home parkrun are known as 'passionistas'! Wherever you are in the world you can find your nearest parkrun using the parkrun tourist tool: https://touristtool.mybluemix.net/
By linking your barcode to Bournville Harriers (click on the link in your results email to 'edit my details') you appear in our consolidated club report (which is how I find out about all those PBs and milestones which are announced on a Monday evening at club). Bournville Harriers Club report / Bournville Harriers Club page
parkruns (and junior parkruns) rely on volunteers; the marshals, timers, funnel managers, tail-walkers and event team that make the events happen every single week. If you've never volunteered before do give it a go; it's so much fun to see all the runners, from the super fast to the families, walkers and first-timers. You also get a great insight into everything that happens behind the scenes.
Wearing your club kit to Cannon Hill or another local parkrun you get a lot of support. Lots of our members first heard of BvH through seeing us at parkrun (or in my case through volunteering and chatting to an existing member). We also regularly organise parkrun tourism and celebrate our milestones and PBs together.
For Bournville Harriers, parkrun really encapsulates our four club values; performance, participation, encouragement and enjoyment. It's much more than 'just a run in the park', inspiring Rachel Hursey to pen this lovely poem:
parkrun, Cannon Hill Park
Coming up to nine on a Saturday
and the bandstand is a metal beacon
complete with volunteers in high-vis jackets.
Runners in various levels of brightness
make their way up. Some walk. Others jog
with one eye on their well-worn Garmins.
Announcements from a loud speaker are half heard
to stretches, clapping and a removal of layers.
There's a drifting towards the start line.
And they're off.  The tarmac paths twist round
to make the 5k route. By ponds where geese
gather and become the spectators.
Past benches, borders full of flowers,
a children's playground, sculptured hedges.
Encouragement seeps from every tree.
"Get going, Clare."  "Looking strong." "Great running!"
"Go on Dave, think about that PB. Go!"
"You can do it. Don't stop now. Almost there."
The final uphill after the Tea Room
as the runners try to sprint for the line
and check times as they filter down the funnel.
It's after nine o'clock on a Saturday
and the bandstand is a celebration
of placing one foot in front of the other.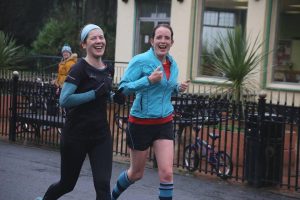 Stacey Marston (Athlete 292006) and Rachel Hursey (Athlete 735300), July 2017
*All correct at time of writing