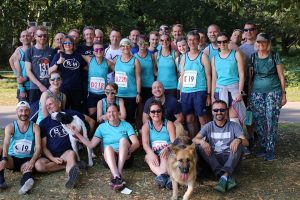 The Road Relays take place on closed 'roads' with both the Regional and National championships taking part in Sutton Park, Sutton Coldfield. They're a great opportunity to both compete and support on the same day and as a relatively local event, the encouragement for those running in Teal on the final hill is second-to-none!
The Relays are a competitive team event, open to all fully paid-up club members. The club pays for teams to enter from subscriptions so it's important to sign up responsibly; illness and injury happen and can't be foreseen, but you should only sign up if you're intending and available to run as the entries are expensive and cannot be refunded to the club. Look out for calls from the Road Relays Team Managers on the website and/or Facebook to sign up.
'… a proper race where every second counts, where people run for themselves and their teammates. Then, you're competing for someone. You're part of a team, and that's a huge incentive. If you push harder and overtake just one more person, that can help your team's standing at the end of the race. Your mates are relying on you to try as hard as you can, which is all anyone can ask. You're not playing for matchsticks anymore. It matters.'  The Art of Running Faster – Julian Goater
The first date for 2021 is the Midland Road Relays at Sutton Park on Saturday 25th September.
The National Road Relays often feature the cream of English running talent; the Men's team have to secure qualification to the National event because they tend to be over-subscribed and there is a limit on the Women's Team entries. The events are competitive and there's a focus on fielding a strong 'A' Team, however, all club members are welcome to take part and encouraged to do so; something about running as part of a team and the atmosphere of the event can inspire exceptional performances. It's natural for runners to feel a little bit nervous taking part in the Relays for the first time as they are a bit different to mass-participation events with more of a competitive edge, but there is a great deal of enjoyment to be had travelling to the race together, preparing for your leg and supporting other runners on their leg. The following FAQs should help to allay any concerns and of course the Team Managers will also be on hand to help you:
Frequently Asked Questions:
What distance are the legs? They vary from under 5km to over 9km with all manner of variations in-between; the 12 & 6 Stage events also have long legs and short legs, just to add to the confusion and challenge for our Team Managers in selecting teams and to those waiting in the pen for the runner on the previous leg!
Do I have to run with a baton? No, the officials will call you out of the pen as the previous runner from your team is approaching the finish and will tell you when to go on your leg.
Okay so it's just like a normal race then? Yes and no; it's a competitive team event and there are some rules to be aware of, for example; headphones aren't permitted (it isn't allowed to run with a phone either and officials will disqualify anyone seen with a phone in the pen); runners can only run one leg for the club; and being on the course with your race number visible when you're not running your leg can also result in disqualification… these are just some things to be aware of though and mostly it's just like other races.
What do I need to bring? Your Team Manager will collect race numbers to give out on the day so be there in plenty of time for your leg. Make sure you have plenty of safety pins as you will have two numbers, one for the front and one for the back. The officials need to be able to clearly see your number to call the next runner from your team so a securely pinned number could make all the difference to the team's result! To race you MUST wear an official BvH club vest or t-shirt – i.e. a Teal vest or technical t-shirt with navy piping; please note that club training tops or other t-shirts or vest are not permitted and could result in disqualification for the team. Remember to bring your own drink and snacks for afterwards; there's no water supplied at the event although there is usually a fast food van and there's also the nearby Costa Coffee, it's also worth bringing some money as you can sometimes get a bargain pair of trainers or some kit from the stand; at the National events there's usually a commemorative hoodie or t-shirt that you can show off to friends and family afterwards. It isn't advisable to bring valuables although there are usually other BvHers around while you're running, we can often get distracted by warming up or supporting.
That all sounds quite serious? It's also lots of fun and there's a brilliant atmosphere! We often travel there together on the train; it's great to cheer everyone on for the final push up the hill and there's always an ice cream van for refreshment!
If you're interested in taking part then please contact us here (women) or here (men) .