Every month we honour a member of Bournville Harriers. You can nominate anyone who has had a positive impact on your experience at Bournville Harriers in the last month or so, whether by cheering you on at a race, keeping you company on a training run, keeping you sane through your latest injury, or by doing something else someone might deserve recognition for.
All we need is a name and a brief explanation of the reason you've nominated that person. We will sift through the nominations at committee meetings and may bring some of our own. The whole point of this is to recognise a wide array of members for doing all of the little things they do to make our club great!
The winner each month will win a limited edition Bournville Harriers Pin Badge and will get a short profile on the website. We have built up a winners' gallery, which serves the dual purpose of honouring our members and giving visitors to the BvH website a flavour of who belongs to our club and why. Please note that you will need to be a paid-up member to win!
Nominations can be made by email by emailing bvhchairperson@bournvilleharriers.org.uk or by speaking to Dave on a club night.
2019 WINNERS: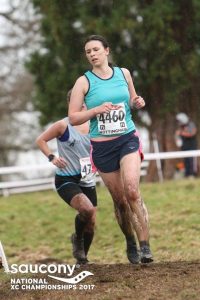 January 2019 – Rhian Littlewood

How long have you been a member of Bournville Harriers? I joined in October 2014, just after running my first half marathon
If you see me in the Pavilion Bar, you can buy me a… Gin and tonic.
Favourite racing distance?  I really enjoy 10k for the opportunity to run with a bit of pace. Winter is so full of cross country that I don't seem to find much time for other races so it's almost hard to remember.
Favourite race/event? Cross country! I love the team spirit, the challenge of different terrain and the adrenaline rush of running down a steep muddy hill. Also Man v Horse which was the most fun I have had at a race, even if it did break me a lot.
Proudest moment as a runner?  It's a tie between finishing Birmingham marathon last year and coming third in the Wythall & Hollywood 5k, which was my first and only individual prize for a race.
If you were trying to entice someone into joining BvH, what would you tell them about the club? I would tailor my sales pitch to the person, as all good sales people do 🙂 We have such a diverse set of people linked by a common enthusiasm for running – there is a place for every runner in BvH. I would also impress them with some stats* about how much the average BvH runner improves after joining the club.
*Stats will be true in spirit but maybe not strictly fact checked.
February 2019 – Sean Rose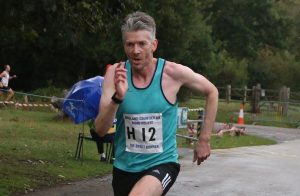 How long have you been a member of Bournville Harriers?I think it was 2004 when I first joined. The club then was no more than 40-50 strong and a post run drink was obligatory 😉
If you see me in the Pavilion Bar, you can buy me a…A Guinness. It has lots of iron apparently. That's my excuse!
Favourite racing distance?I think 10k because you have to run hard from the gun but also need an adaptable race strategy.
Favourite race/event?It has to be the London Marathon. But it is a love-hate relationship. I have always said never again.
Proudest moment as a runner?I have 3 and it is hard to choose between them:
1) Running 2:44 in the London Marathon, especially as it was touch and go when my training fell apart. I stood on the start line knowing I had no buffer left to break 2:45.
2) Bournville hosting its first cross-country race at Cofton. That was our first winning year as a team. Back then we were in Division 4!
3) BMAF XC Relays 2013 when we won the M35 Gold. All the BMAF XC Relays were special in Derby as you could watch over half of each 3K leg from the stands. I have seen Dean P, Paul T and Orlando C close some phenomenal gaps.
If you were trying to entice someone into joining BvH, what would you tell them about the club?We all run for a variety of reasons and BvH is the only club I know where you will find someone with a similar outlook.
March 2019 – Barrie Roberts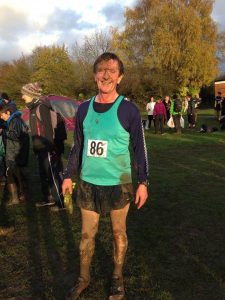 How long have you been a member of Bournville Harriers? I have 'been around' before (Birmingham-Rowheath)  and throughout Bournville Harriers existence. Always based at The Pavillion, Bournville.
If you see me in the Pavilion Bar, you can buy me a… IPA Beer (but occasionally I am not drinking alcohol!)
Favourite racing distance? Favourite racing distance; possibly the 1 Mile (road or track)
Proudest moment as a runner? Proudest moment; probably winning the UK 800m indoor title track about 5 years ago at Lee Valley. (But also very proud to witness my wife Katie's first Half-Marathon, here in Birmingham last Autumn, and to be part of a running family).
If you were trying to entice someone into joining BvH, what would you tell them about the club? A local, accessible, welcoming and generally inclusive adult running club. All ages, men/women, all abilities. Performance, Participation, Encouragement and Enjoyment are important strands in the Club's philosophy.
We have some amazing and remarkable people in our membership, who have run anything from 60m to ultra-distances, on a wide range of surfaces e.g. road, cross-country, trail, track and multi-terrain. BvH runners have run, and continue to run, all over the world. In this latter connection, we have many parkrun devotees. The Social Life at BvH is also valued by many of us.
April 2019 – Steve Doswell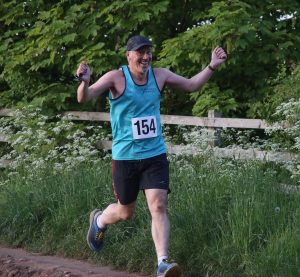 How long have you been a member of Bournville Harriers? Since 2012. I came to Rowheath to run the Bournville Leafy 10K, loved the friendly buzz and the cakes afterwards and decided the future was teal!
If you see me in the Pavilion Bar, you can buy me a… pint of whatever guest ale's on the pump on the left.
Favourite racing distance? Toss-up between 10K and a half-marathon. Probably 10K, though, because I can push myself, knowing it'll be over soon!
Favourite race/event? As people know, I love Slovenia so it's got to be Ljubljana Marathon/Half, held in late October. I've run the Half twice and the full 42K once and I'm going back for the full distance again this year. It's a big event in a small scenic city, non-stop crowd support, superb organisation, fast course, there's even chocolate on the way round – what's not to like?!
Proudest moment as a runner? Hard to single one out. Every time I turn out in teal it gives me a strong sense of pride and belonging. But probably it was touching the Acropolis in Athens in March, having run over the hills from Marathon, knowing I'd completed what I'd set out to achieve with Running: Me Running EU.
If you were trying to entice someone into joining BvH, what would you tell them about the club? Four words: Performance, Participation, Encouragement, Enjoyment. I know of no other club, company or organisation that so completely lives up to its values and fulfils its promise to new and potential members. Join – you, won't be sorry. It may even positively change your life. It has mine!
May 2019 – Kate Green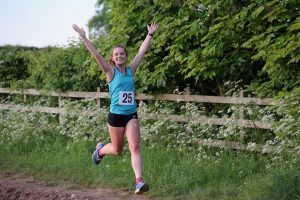 How long have you been a member of Bournville Harriers?  A grand total of 6 months! I started running with the club in January and always intended to join, but an upcoming cross country race spurred me to get my membership sorted that little bit sooner!
If you see me in the Pavilion Bar, you can buy me a… A large Sauvignon Blanc please!
Favourite racing distance? It's really really hard to choose… I think most people now know that I like to do everything! I love parkrun for the Saturday morning community spirit and the opportunity to push myself on some (hopefully) really fast miles, but I also really enjoy marathons and ultras because I love understanding what my legs and mind need to be able to perform over a longer distance, and I love trails because mud and hills spell FUN!
Buttttt, I think I'll go with marathons as my final choice, not just for the reasons above, but also because I've seen some pretty cool places because of them (NYC and Amsterdam to name a couple!) and I've got to know some great people as a result of long run training.
Favourite race/event? There's actually too many to choose from!!
I think my favourite, favourite, favourite event has got to be the Maverick Peak District Middle Distance in 2018. Stunning scenery on a beautifully sunny day (although way too hot for running – I drank 2 litres of water across 17 miles!) with a load of glorious trails. It was just one of those days where I felt really lucky to be able to run and I just had a fab time. I also managed to sneak 3rd place.
Proudest moment as a runner? Ahh it's a tie between these 3:
Finishing and winning my first 50 mile Ultra in May of this year and then going on to win the Abersoch 10k 3 weeks later;

Getting to the top of the Stairway to Heaven on The Grizzly course after almost a mile of pebble beach with a smile on my face; and
Finishing New York City Marathon (my first ever marathon and the start of a deep rooted love for long distance events.
If you were trying to entice someone into joining BvH, what would you tell them about the club? Hands down the greatest thing you'll ever do.
Whether you want company for weekly exercise or you want to improve you racing times, there is genuinely something for everyone. The one thing that's so great about BvH is that your achievements, no matter what speed or distance, will always be recognised. The club is so inclusive and I think it's great. We don't just focus on putting the fastest people out time and time again, we want everyone out there and we want them all to have fun!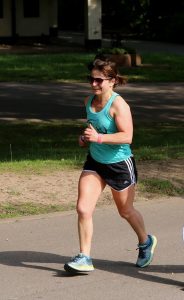 June 2019 – Rachel Partridge
How long have you been a member of BvH?  16 years.
If you see me in the Pavilion Bar, you can buy me a…  non alcoholic beer or just water, no ice.
Favourite racing distance? I loved half marathons, I would race this distance a lot.
Favourite race/event? Coventry Half as I achieved a PB 1.53
Proudest moment as a runner? Achieving 51 minutes at Conductive 10k and 52.05 at Leafy 10k also 24.52 at Cannon Hill parkrun – Sorry you meant one proudest moment 🙂
If you were trying to entice someone into joining BvH, what would you tell them about the club?  Such a friendly, welcoming, encouraging Club, to all adult ages and abilities, catering for all types of running from track to ultras. The clubs news feed is amazingly covered too, so informative to keep you feeling a big part of a club that you will become very attached to.
July 2019 – Jo Green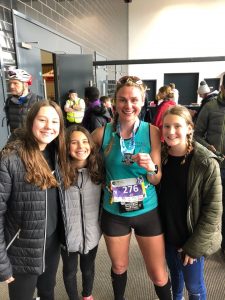 How long have you been a member of BvH? Just coming up to 1 year as a proud member of BvH
If you see me in the Pavilion Bar, you can buy me a… I love a pint of Guinness after a race or a pint of lager after a training run!
Favourite racing distance? I know it sounds a bit twisted but I like a marathon
Favourite race/event? I think Thunder Run has to be up there as it is such a great all round event with such a great opportunity to spend lots of time with your clubmates as well as enabling you to meet new people from other lovely clubs with like minded attitudes and a real sense of fun
Proudest moment as a runner? My proudest moment has to be this year's marathon at Milton Keynes where I smashed my PB and was greeted by the little Greenies who are my world and had the bestest hugs at the end – I cried and smiled lots!
If you were trying to entice someone into joining BvH, what would you tell them about the club? I would have to say that it is without doubt the people and the way the club members embody the club's ethos that make BvH stand out. Any club can exist through a common passion for running but BvH brings with it a unique sense of fun, a caring and supportive nature, an ability to help people achieve their goals whatever they may be and engenders a real sense of belonging. I felt welcome before day one and joining BvH was the best decision I made last year and I fully expect anyone else who joins us to feel the same way.
August 2019 – Monica Baptista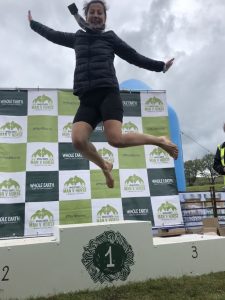 How long have you been a member of BvH? I've always ran on and off since I was a teen to keep fit and have been a member of a couple of other running groups/clubs but I think I officially joined BvH in early 2013.

If you see me in the Pavilion Bar, you can buy me a… mmmm… That's a tricky question… I don't often drink alcohol although I do enjoy my favourite French 2% cidre, that I can only get from France…  I occasionally find a British cider that I like and have a bit of a binge on it (2 pints) :D. In reality, a pint of water or a pot of tea are usually my beverages of choice. I know, I'm a cheap date! lol Oh, I also really enjoy a nice glass of Port (I am from Porto after all and we drink it for breakfast over there. Kidding!)
Favourite racing distance? 5k! I know, it's horrible, but it's over quickly and I can cope with the mental game of convincing myself that I only have a very short amount of time to put up with that amount of excruciating pain. I usually tell people I like 5k because I think of it like quickly puling a plaster instead of dragging the pain out for longer. I also love short, hilly and technical xc races.
Favourite race/event? The complete opposite to a flat fast 5K: Hills, trails and crazyness at MAN VERSUS HORSE!!!! There is no other race or weekend I look forward to more. I love everything about it, going over on Friday and hanging out with the other runners and organisers in the Neuadd Arms Hotel and at the campsite. The adrenaline of running with the horses, the post-race sandwiches and the tea buffet. Furthermore, because it's a Saturday race, we usually book a barn and chill out for the rest of the weekend with some of my favourite people.
Proudest moment as a runner? For a few years it was running my first marathon at London in 2015 but that soon wore off. My proudest moment as a runner was running 19:52 at the BRAT Summer Smash 5k race.
When I first told people that running a sub 20 5k was my biggest running goal during a Sunday Long run, I almost instantly regretted it because it made it real and, in a way, I was scared I was never capable of doing it. I was still a few minutes away from getting anywhere close to my target and I was worried I would jinx it and get injured. Unfortunately, with upping my training comes the potential risk of injury and I did get plagued with a constant stream of niggles and injuries the next few years. With a lot of hard work, I managed to get stronger and fitter again and finally got my speed back and achieved my goal 🙂
September 2019 – Lesley Pymm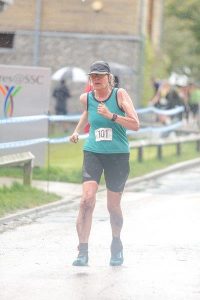 How long have you been a member of BvH? Do you know, I can't remember!  I still think of myself as being a relatively new member of BvH, but I joined when I was still working and have been retired for nearly 10 years now, so I suppose it must be 12 or 13 years.  I can't be the 'new girl' any more.
If you see me in the Pavilion Bar, you can buy me a…  My biggest disappointment with the Pavilion Bar is that they rarely have real ale on.  I don't drink much, so when I do I don't waste it on keg.  If they have a decent real ale on I'll have a 1/2 with you!
Favourite racing distance? Favourite race/event?  This is so difficult.  Up until a few years ago there would have been no question that it is the Grizzly (a 20 ish mile course in East Devon covering beach, bog, hills and a water crossing), but I'm afraid that my body just won't let me do that any more.  I do the Grizzly Cub run which is only 9 miles, but that is really the Griz without the interesting bits.  I joined Bournville because there was always such a good turn out at XC events, and XC has to be my favourite club running.  I love a bit of mud and slosh.  I did love the Rodbaston 10K in September where I ended up thigh deep in water and crawling in mud.  Anything like that really.
On a different tack – I think parkrun is the best thing to have happened in running for years.  This is totally inclusive and runners/walkers/volunteers are all encouraged to do what they can within a community.  Mike, my husband, has started to do this when the weather is not too wet and cold, and it is good to be doing it together.
Proudest moment as a runner?  Probably being awarded Member of the Month for a second time.  That came as such a shock and I was really proud, especially as I have slowed down so much recently.
If you were trying to entice someone into joining BvH, what would you tell them about the club?  I would (and do) tell them how supportive and inclusive the Club is.  Yes we have some really fast runners who I am proud to call 'clubmates', but we also have slower runners and everything in between.  I was a member of another local club some years ago (no names) and I was running better then 45 min 10K PB, 1hr 45 1/2M, but was rarely called on to be in the XC team as they seemed to want to showcase their fastest runners.  I would be contacted if they were short.  Bournville Harriers wants to be seen to encourage all abilities and an example of this is that everyone is welcome in the XC and the road relay teams.  The coaching at BvH has also been one of the elements I always promote.  I don't take advantage of it myself much now as I don't want to run in the dark, especially when I can train in daylight.  Certainly when I was working I came to reps and other training sessions.  I did some reps sessions in the summer and hope to next year as well.  They are so enjoyable as well as hard work, and all abilities are able to train together.  The 'new runners' programme every year is also great for those who have never run or have not done so for ages and need to build up to 5K.  I don't think I do 'entice' people to join BvH – I encourage them to come along to sessions for a few weeks and make their own mind up.  We are such a friendly club that I know most people will decide to join.