Every month we honour a member of Bournville Harriers. You can nominate anyone who has had a positive impact on your experience at Bournville Harriers in the last month or so, whether by cheering you on at a race, keeping you company on a training run, keeping you sane through your latest injury, or by doing something else someone might deserve recognition for.
All we need is a name and a brief explanation of the reason you've nominated that person. We will sift through the nominations at committee meetings and may bring some of our own. The whole point of this is to recognise a wide array of members for doing all of the little things they do to make our club great!
The winner each month will win a limited edition Bournville Harriers Pin Badge and will get a short profile on the website. We have built up a winners' gallery of sorts, which will serve the dual purpose of honouring our members and giving visitors to the BvH website a flavour of who belongs to our club and why. Please note that you will need to be a paid-up member to win!
Nominations can be made by email by emailing bvhchairperson@bournvilleharriers.org.uk or by speaking to Dave on a club night.
2018 WINNERS: 
January 2018 – Pete Hickman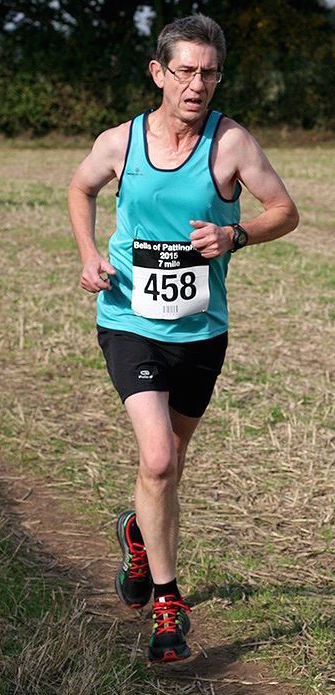 How long have you been a member of Bournville Harriers?
Just coming up to 3 years
If you see me in the Pavilion Bar, you can buy me a ….
Always keen to try any of the ales they have on (although it's orange juice/squash for dry January currently!).
Favourite racing distance?
All distances really but am just working on 5k's at the moment as I build back up post injury.
Favourite race/event?
That's a tough question, but I do love doing ThunderRun 24hour relay race. Thoroughly enjoyable weekend.
Proudest moment as a runner?
That would have to be my marathon time of 3hours 32mins a couple of years ago, Didn't think I'd got anywhere near that sort of time in me.
If you were trying to entice someone into joining BvH, what would you tell them about the club?
I'd tell them what an all inclusive club we are and how we cater for all, be it slow, fast, younger or older.  My running has benefitted greatly, added to which I have met so many fantastic people and made many new friends.
February 2018 – Lorna Al-Ani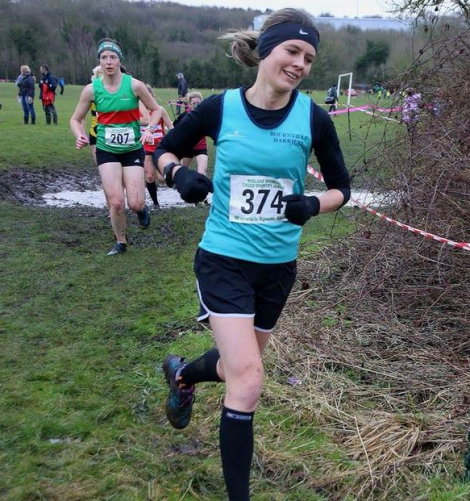 How long have you been a member of Bournville Harriers?
I joined in July 2017.
If you see me in the Pavilion Bar, you can buy me a ….
It has to be a glass of white wine, however all this running has made me a complete light-weight, so I would quickly be moving onto the diet cokes!
Favourite racing distance?
I love long distance running, so it has to be the marathon, although I am venturing into doing even longer this year, so we'll see if that changes!
Favourite race/event?
I have enjoyed the majority of the races I have done, so it is really hard to choose. I love the Stroud Trail half marathon that takes place in May, as the views are beautiful and have gone back three years in a row to run it. However, I also love the great crowd support you get from a big city marathon, like Berlin.
Proudest moment as a runner?
It would probably be winning my age-category prize at Sneyd Pudding race this year. It is the first running prize I have won and it was great to represent Team Teal.
If you were trying to entice someone into joining BvH, what would you tell them about the club?
Do it! Bournville Harriers are so welcoming. It doesn't matter what level of runner you are, there is training available to suit everyone. There are so many opportunities to get involved with the club, both running and socially, that it is an opportunity not only to improve your running, but also make great new friends!
March 2018 – Stewart Crowton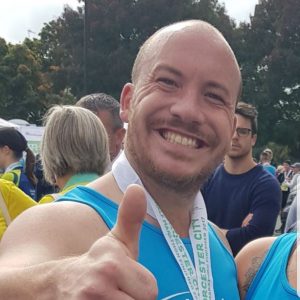 How long have you been a member of BvH? Since September 2017  
If you see me in the Pavilion Bar, you can buy me a… Large Pepsi with ice  
Favourite racing distance? 5k because I like to improve it every time.
Favourite race/event? Worcester half marathon  
Proudest moment as a runner? Completing my first half marathon and getting the time that I did (1 hr 46 min 53 seconds) as I only wanted to do it in 2 hours so getting that time was the best feeling ever.  
If you were trying to entice someone into joining BvH, what would you tell them about the club? Very friendly people, make you feel very welcome. All different paces so you'll never be alone.
April 2018 – Stacey Marston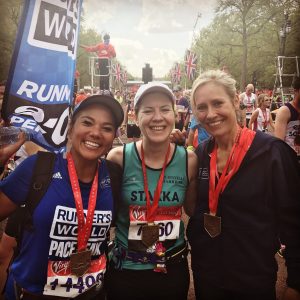 How long have you been a member of BvH? I joined in 2013 but I had been running off and on for about 5 years before that.
If you see me in the Pavilion Bar, you can buy me a… I'm partial to a non-alcoholic beer if I'm driving (if the bar has Erdinger in then that's my favourite), but I'm known for having a beer, wine or G&T in all photos where I'm not running (and even some when I am).
Favourite racing distance? Ideally I like to be in shape to run, if not race, a half-marathon if the opportunity arises, but over the last couple of years I have struggled with a few illnesses and injuries (not to mention being a bit busy) and so at the moment that seems like a very long way – perhaps it feels like my favourite at the moment because I haven't been able to do so many recently!
Favourite race/event? Last time I was asked this question I said parkrun and I really hate to miss one, but in the interests of giving a different answer I will say that the Great Run Birmingham events like the 10k and half marathon are amazing to run in a BvH vest – you feel like a celebrity (and who doesn't want to be cheered?!) Thunder Run is another event that is very special, mainly because of the Teal family and festival vibe.
Proudest moment as a runner? Finishing the London Marathon last year and getting a new PB after a very difficult build up. It was an incredible feeling (although the sub-4 hours I really want is still to come). PBs have been few and far between in the last year or two so this one felt really special.
If you were trying to entice someone into joining BvH, what would you tell them about the club? Where do I begin?! Joining BvH was life-changing for me, I have made so many wonderful friends and feel like I am part of a fantastic community. I am so proud of the club; I love hearing about the amazing performances of some of our runners, the improvements that new runners make when they join and the camaraderie and support that is so clear to see at club training sessions, races and everywhere that we go. Whatever kind of day I have had, a run with friends on a Monday or Thursday night is guaranteed to improve my mood. My annual subscription is the best value for money I get all year.
May 2018 – Nicola Morris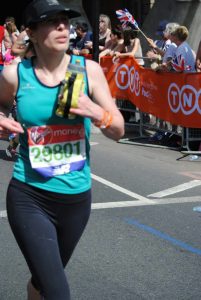 How long have you been a member of BvH? Not sure exactly, but about 10 years I think?……How did that happen?!
If you see me in the Pavilion Bar, you can buy me a… It would have to be a pale ale.
Favourite racing distance? This has probably been marathon distance up to now……..I have always loved the training; the races leading up to the marathon; the apprehension and excitement of marathon day…….and the sigh of relief at the end when it is done!
Favourite race/event? There are loads of favourites but I would say the Birmingham Marathon last year was really special…..home city, really incredible support all the way round and it was really great to have a fellow Bournville Harrier to run the last 6 miles with!
Proudest moment as a runner? I think every moment has been a proud moment but completing Race to the Stones in 2017 in particular was a really great personal achievement…..still can't quite believe I did it…..or that someone managed to talk me in to it!
I was really proud of being a member of team Fruit & Nutters in the Thunder Run last year.  Despite the really awful weather conditions our team spirit was amazing!
I am also proud that I keep managing to get up that hill in Sutton Park for the Road Relays!….and that as part of these races I also get to see all my fellow Bournville Harriers racing their way up to the finish line.
If you were trying to entice someone into joining BvH, what would you tell them about the club? Join and don't wait a minute longer!……I have achieved things with my running that I would never have dreamt I would or could have and I have met some of the best of friends.
June 2018 – David Mountford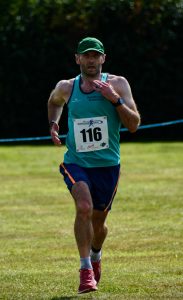 How long have you been a member of BvH? I joined in April 2016. One of the best decisions I ever made. I've been running since 2004 though so it took me long enough!
If you see me in the Pavilion Bar, you can buy me a… I don't drink so that'll be a still water, please. Or a cup of tea. A really good strong cup of tea. Tea makes the world go round.
Favourite racing distance? Half-marathon. Long enough to be distance running where I can drop into a steady rhythm, lock into the motion and just keep going and eat up the miles, but short enough to still be fast and run hard (without being a gut-busting pain-fest like 5k and 10k).
Or short distance where I can use sprint form, 100m-200m. There's a primal joy in sprinting. Feels amazing.
Favourite race/event? Of the big events I've done, the London Marathon and the New York City Marathon. On a slightly smaller scale, the Worcester City 10k/Half-Marathon because they're (mostly) flat and have PB potential, and the Wythall & Hollywood 5k/10k because of the lovely small local feel and the summer country roads. I absolutely love the road relays at Sutton Park – proper club racing, a harder edge and feel to it.
And there's this other race, the Leafy 10k, put on by a great local club…
Proudest moment as a runner? Lots of things I've achieved, but mostly I'm proud of having had the work ethic and discipline to get up and get out there to put the work in to achieve them. I'm also very proud of being a coach.
If you were trying to entice someone into joining BvH, what would you tell them about the club? Running can be all things to all people, whatever you want it to be and want to do, and whatever your thing is you'll find it supported, encouraged and celebrated here at BvH. Whether it's running for performance, fitness and health, or for fun and social enjoyment, we have runners who do all of these things, and the warmth, friendliness and mutual support and encouragement comes shining through.
July 2018 – Guy Marston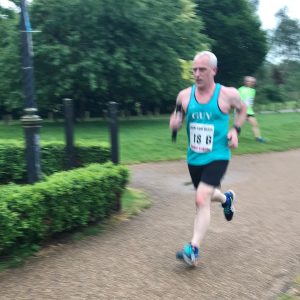 How long have you been a member of BvH? Just over a year, after finally being persuaded by a current member of BvH (mentioning no names).
If you see me in the Pavilion Bar, you can buy me a… pint of chemical rubbish (lager), I know it's not popular with the craft beer re-hydraters!
Favourite racing distance? Still finding out, but definitely nothing short, so far the more miles (and hills) the better. I might feel differently after the upcoming marathon but I've enjoyed the training with amazing support, encouragement and advice from Michael Greenhouse, who is a leg-end in his own trainers.
Favourite race/event? A bit of a toss-up between the Waseley Wobbler and the Arden 9 – both were nice distances and 'undulating'.
Proudest moment as a runner? Winning the Teal Targets Award at 'The Tealies' in April; I was working in the kitchen that night and being called out to receive an award was quite surreal.
If you were trying to entice someone into joining BvH, what would you tell them about the club? First of all we're a friendly bunch; there's amazing coaching – all our coaches give so much of their time and knowledge, I don't know if they realise what a difference it makes to people and how grateful we all are; and there's a range of running abilities but everyone is given the same level of support and encouragement to achieve their personal best.
August 2018 – Nicki Mann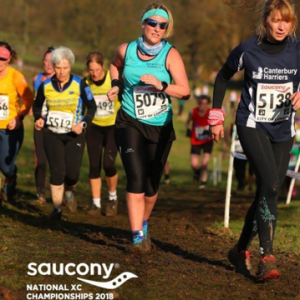 How long have you been a member of BvH? I joined in June 2015, after completing the Beginners Course.
If you see me in the Pavilion Bar, you can buy me a… Normally a pint of tap water with ice…. Although occasionally enjoy a glass of red wine, and I'm developing a taste for gin….
Favourite racing distance? These days it's definitely the longer distances ….Half-marathons and longer. I especially enjoy marathons….and the whole marathon training journey. More recently I like doing shorter ultra-marathon distances….so between 31-35 miles…….. but also love a bit of a sprint finish…..no more than 50 metres though!
Favourite race/event? I've done Wyre Forest Trail Half Marathon 4 times now (includes the Dirt-run Winter one), so I guess that would be my favourite. I love getting off road and the freedom, variety,  hills and scenery that trail running has to offer, and Wyre Forest has all that. It's local too, cheap to enter and there's always plenty of Bournville Harriers taking part. I also love the mud-fest and occasion of representing BvH at the National XC Championships. Last year's at Parliament Hill, North London was particularly special. And don't be put off thinking you have to be fast to enter ….. runners of all abilities take part.
Proudest moment as a runner? Chuffed to bits to finish my first marathon Loch Ness, in 4:06:11, 15 months after completing the BvH Beginners Course. (Originally hoped for between 4:30 – 5 hours for my first one). Also recently completing 6 Ultra Marathons between 20th May -11th August to  raise over £2100 for RSVP. Thank you so much again to everyone who supported me either by sponsoring or by words of advice and encouragement in this.
20th May, Shires and Spires – 35 miles
23rd June – Pennine Barrier Ultra -50 Miles
30th June – 1st July – Cotswold Way Ultra -100k
14th July – Race to the Stones – 100k
9th August – Cotswold Ultra – 44.5 miles
11th August – Windsor Ultra – 43.4 miles
Some of my proudest moments have also been supporting and encouraging other runners achieve their goals…  whether it's helping out on the Beginner's Course the last few years….this last year as a leader, pacing runners to PBs at parkrun and other events,  volunteering at parkrun or junior parkrun and being involved with RunandTalk, a twice monthly run/walk group for positive mental health that meets at Cannon Hill Park at 10am after parkrun.
If you were trying to entice someone into joining BvH, what would you tell them about the club? Fantastic, inclusive, friendly club that welcomes everyone no matter what your running ability is, or whether you're running for performance, fun, enjoyment, health reasons, or a mixture of all these, you'll receive great support and encouragement from its members. Lots of opportunities to improve and develop ones running too from Bournville Harriers' excellent coaching team. Whether Road, Trail, XC, Fell Running or Track is your thing, and distance wise….sprints up to Ultra-marathons (with everything inbetween)………there's plenty of opportunities to try something new and a rich wealth of knowledge, experience and advice from its members.
Lots of different fun social events going on at the club, and chance to meet a wide range of people and make some great friendships, as well as plenty of opportunities to get involved and give back both at Bournville Harriers and the wider running community. My one regret being I didn't join many years before!
September 2018 – Alison Price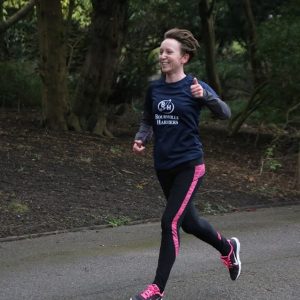 How long have you been a member of BvH? Almost 1 year
If you see me in the Pavilion Bar, you can buy me a… until they introduce a cocktail menu, cherry sourz, Malibu or Disaronno or Amaretto & coke – bar staff will know & first round's on me!
Favourite racing distance? I enjoy running most distances, up to 5k for the speed factor, still working on getting my 5k & 10k times down but relatively happy with current times. I'm also looking to do more longer distance to see what times I can do but enjoy running with friends too. I like to mix it up & if there are music stations along a race, I will dance.
Favourite race/event? Has to be Birmingham Half, my home town & first half. I will be running for the third time in two weeks but first time by myself so will be looking for a decent time as I had fun on previous two. The first in 2011, my friend & I had decided we would like a challenge & despite having no running experience & probably only ever had ran 5k before; thought why not. I went out the night before so ran, danced, jogged & high fived my way round. I had a blast, our only objectives were to complete the course & have fun & definitely achieved that. The second in 2016, I ran with my friend who was completing her first half & it was great to share in her achievement.
Last year I completed Birmingham Full Marathon (my first 26.2 miles) & it was Bournville friends and team mates Lisa & Nicki that got me round – it's all about the experience & progressing.
Proudest moment as a runner? My sons first parkrun – unofficial as not yet old enough to register but just that he wanted to run & ran/walked the whole of Cannon Hill Junior parkrun was just amazing. Matthew is fast so if he decides he likes this running malarkey I'm in trouble!
If you were trying to entice someone into joining BvH, what would you tell them about the club? This is easy, I'm always telling people how fab BvH are. A great club for all abilities covering all distances from beginners & speed demons on track to parkrun professionals, XC & road relays, 10 mile, Half/ Full Marathon & even the fantastic endurance runners completing ultras. Not only are BvH a fantastic club for runners, but they are a lovely, supportive, knowledgeable & social group of people.
Before I joined BvH I was just running parkrun & different events with my friends to keep fit & have fun.
The social aspect was a really big part for me. In my mid 20's I started going to the gym & it took me ages to gain the confidence to go to classes, I was happy to go & do my own thing but the social aspect was zero. Then I took a few years out after doing my first half marathon & although I do a lot of walking, after my son was born, I really needed to do something for me again & met Lisa & Surinder to start running. Little did I know when I turned up at Cannon Hill a few years ago that I would be completing 5k, but I came back the following week & have been running CHP ever since. Through Lisa & parkrun, seeing familiar faces I got to know a few other runners & members of BvH until Jude apparently tried to poach me! So with this vote of confidence I started taking my running a little more seriously, came along to a few club runs & enjoyed the social after Badgers last year.
I had ran for a while with a "collective" nearer to where I live but the two are worlds apart and BvH made me feel so welcome, you continue to show me such great encouragement & are happy to give me your time and advice on how to progress / train properly for various events. I truly appreciate all BvH have done for me and if I can share this experience with my friends / colleagues & encourage them with their own running then that's great.
I'm still enjoying building friendships within Team Teal; it really is like a little family at times and it would be great to get to know more people in this ever expanding family, so whether it's out on a run, at the bar or one of the brilliant socials, come & say hello!
October 2018 – Paul Coughlan
How long have you been a member of BvH? Almost 10 months now, and started running in August 2016
If you see me in the Pavilion Bar, you can buy me a… Guinness /Black Russian
Favourite racing distance? 10k and half marathon
Favourite race/event? I'd say Worcester Marathon 2017 where I ran my very first marathon and ran a GFA v.45-49
Proudest moment as a runner? Running Chester marathon in October 2018 and running my sub 3, I'd trained so hard and put so much mileage/time into it, and at the third time of trying this year did it, knocking 12 minutes off my previous best time.
If you were trying to entice someone into joining BvH, what would you tell them about the club? 1st, what a great club it is; 2nd the friendly social side which I found on meeting most of members at my 1st XC, it made me feel most welcome; 3rd, very competitive and mixed age group, and support is second to none.