2017 WINNERS: 
January 2017 – James Gittins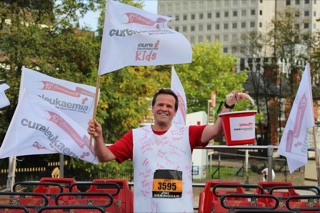 How long have you been a member of BvH?
I joined BVH in January 2007, one of the best things I ever did, I really mean that.
If you see me in the Pavilion Bar, you can buy me a…
Guinness will do nicely please
Favourite racing distance?
I love taking part in half marathons, but the weekly park run at Cannon Hill is also a great distance.
Favourite race/event?
More than one for me…
Running the Flora (as it was in 2007) London Marathon (FLM) for the first time was an unforgettable experience, as I said I joined BVH in the January of that year and met up with some fantastic people from this club, who are still great friends today, where we all ran regularly together as most of us were on the same marathon training schedules. I completed the FLM and have never looked back, that was it, I was completely hooked and even more so, hooked on BVH. I raised a load of money for charity for running this race, which in a way made me even more determined to finish and as it was my first time out I was very cautious and not interested in a time, but just to complete.I would recommend the London marathon to anyone as it is an amazing experience with such a great atmosphere, it's certainly one of my lifetime achievements.
I regularly take part in the Cannon Hill Park Run, which I really enjoy due to the atmosphere and of course catching up with fellow friends from BVH and the local community. I can't say it gets any easier though, each week I always say 'that was tough' yet I keep coming back again. The great thing about the 5km park run race is that it is a weekly event and so you can go for it one week and then the next have a more steadier run if you wish.
The JW Ultra, has always been high up on my favourite race event list over the years, a brilliantly organised and social event. If you are are not familiar with our local canal pathways then you have missed out, the canals are a great place to run with some lovely scenery that you don't necessarily see from the roads.
Proudest moment as a runner?
Raising money for charity by doing something I love. I have run the Birmingham Half Marathon two times carrying a bucket collecting cash for Cure Leukaemia, an amazing experience talking with the spectators on route. This photo  shows me raising money with the bucket, yes I know I am standing on a bus, I promise I didn't get a lift, this is their charity bus on route which I decided to visit! Never one to miss a photo opportunity.
I love my assistant coaching role at BVH and I am particularly proud to be a BVH coach and supporting our runners on a Thursday night and hopefully help them improve. I love having a laugh and having a chat with our runners, I think this helps to motivate. I strongly believe that if you are having fun then the outcome of your performance will be better.
If you were trying to entice someone into joining BvH, what would you tell them about the club?
As I say, it's certainly one of the best things that I have ever done. The club is full of great people, everyone is very friendly and always willing to welcome you on board, whatever your ability. For so many of our club members willing to volunteer themselves to help out at our core events such as the Leafy, JW, X Country, beginners club and park runs, speaks volumes of the type of club we are.  I have met some great people at BVH who have become great friends.
Keep on running and have as much fun as you can whilst you are out there!
February 2017 – Nicola Sykes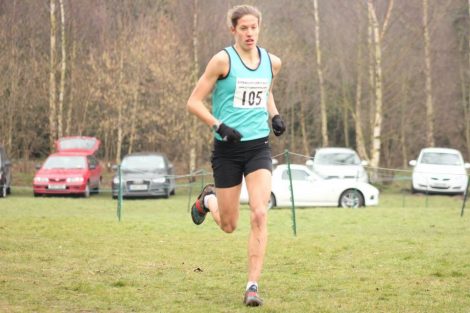 How long have you been a member of BvH?
Since the summer of 2013, it was getting a bit silly going back home to compete for my old club Bedford & County, so I took the plunge to turn teal!
If you see me in the Pavilion Bar, you can buy me a..
Don't think you need any money for a water. yes I really am that boring.
Favourite Racing Distance?
6-8k of a proper Cross Country, but on the road its got to be a Half.
Favourite Race/Event?
When Racing Fit: Everything and anything. When not racing fit: Nothing at all. Positive contributing factors: a decent performance, team mates and good competition.
Proudest moment as a runner?
I remember first doing 800m in PE year 5, I beat all the boys' times except one. He was so cocky about it and it really annoyed me; so I totally smashed him at sports day in front of everyone, I was so chuffed and it totally shut him up too which was not a bad thing. Slightly more recently and its got to be seeing my friend Sham finishing Birmingham Half in October, 12 months earlier hadn't even done a park run, she executed it perfectly.
If you were trying to entice someone into joining BvH, what would you tell them about the club?
Although the first giant leap is  intimidating – nothing exciting  ever happens inside your comfort zone; so I would encourage anyone who was thinking about being part of a club to embrace that initial fear – because it is totally worth it! At BvH we have a huge array of ages, experience, confidence, speed, perceived ability and competitiveness – but we definitely all have more in common than not.
April 2017 – Richard Keep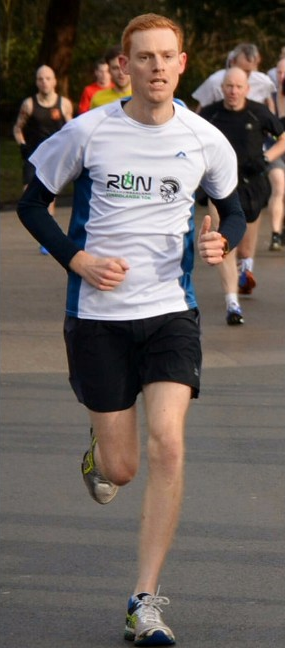 How long have you been a member of BvH?
I joined the club last summer having started running about a year before that. Emily and Sam did a good job of insisting that I come along to a BvH rep session, I found myself as a fully signed up member not long after that.
If you see me in the Pavilion Bar you can buy me a…
Single malt whisky, but that'll be expensive so i'll happily settle for a G&T.
Favourite Racing Distance?
Probably 5k, although i'm partial to a 10k as well.
Favourite Race/Event?
Anything but Cross Country…
Two races stand out from last year, they were the Beer Relays in Stratford and Etsaut Mountain Race in the French Pyrenees.  The Beer Relays were a great way to spend a summer evening with friends and a really good team event.  It's a nice flat 2 miles around the common with a bottle of beer for competing.  The Etsaut Mountain race was the hardest 3.8kms i've ever run, but the scenery at the top of the mountain and sense of achievement once I crossed the line were unrivaled.     

Proudest Moment as a Runner?
Knocking 4 minutes off my half marathon PB at the Great Birmingham Run last October and sealing a hat trick of 5k, 10k and half marathon PBs for the year.  All of those PBs fell after joining BvH so those rep sessions and long runs must have helped!
If you were trying to entice someone into joining BvH, what would you tell them about the club?
I'd tell them that no matter how quick you run or how long you've been running for there will be others in the club at exactly the same level you. Whether their motivation is to run a certain race distance, get a new PB or just have an excuse to get out running and meet loads of amazing new people then they'll find a home at BvH.  I would though warn them that teal clashes with everything!
May 2017 – Collette Greenhouse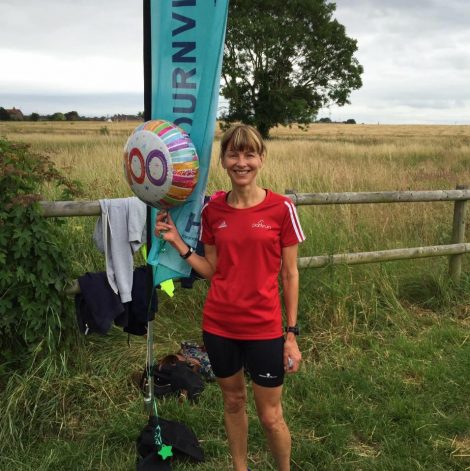 How long have you been a member of BvH?
I joined BvH in August 2013 after realising, that unless I did some training, there was no way I was going to be able to complete the Birmingham half marathon which I'd foolishly entered after a couple glasses of wine one Sunday afternoon!
If you see me in the Pavilion Bar you can buy me a…
Large glass of dry white wine or a G&T, only the 1 though……  
Favourite Racing Distance?
This would have to be 10k or half marathon
Favourite Race/Event?
Think this would have to be Thunder Run. I love the atmosphere. The support from all the fellow BvH runners as well as those from other clubs is amazing. 
Proudest Moment as a Runner?
This is a tough one really as I think we should all be proud of all our achievements whether this be a slow walk/run at parkrun or bagging that PB we were desperate to get.
I guess for me, running my first race, 2013 Birmingham half, as I proved to myself I could do it. 
Running my 100th parkrun at Evesham on my birthday last year as a bit of parkrun tourism with a great picnic after.
I must admit though, one achievement I will always be proud of is making across the monkey bars (something I've never been able to do) at a Spartan Race when Mike fell off….
If you were trying to entice someone into joining BvH, what would you tell them about the club?
I have met some great people and made some good friends since joining the club. Everyone is very supportive, whether this is keeping you motivated in training, cheering you across that finish line or simply meeting up for a chat over coffee, what's not to like?
June 2017 – Marie Foster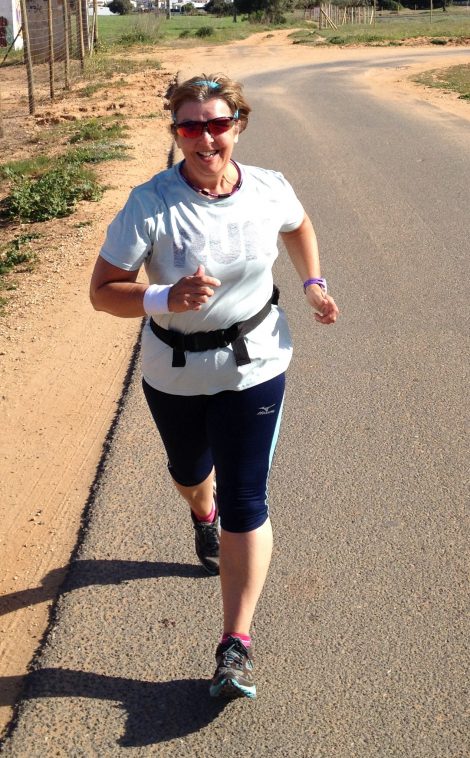 How long have you been a member of BvH?
Since the clubs inception in 2000
If you see me in the Pavilion Bar you can buy me a…
Nice cold non-alcoholic drink
Favourite Racing Distance?
10 miles was always a comfy distance, but more recently I'm just happy to run shorter distances
Favourite Race/Event?
Lake Vrynwy half marathon- beautiful scenery and a PB course
Proudest Moment as a Runner?
Completing my first ever London Marathon
If you were trying to entice someone into joining BvH, what would you tell them about the club?
We're a friendly and inclusive club catering for all abilities- join us and be part of team teal!!
July 2017 – Rachel Hursey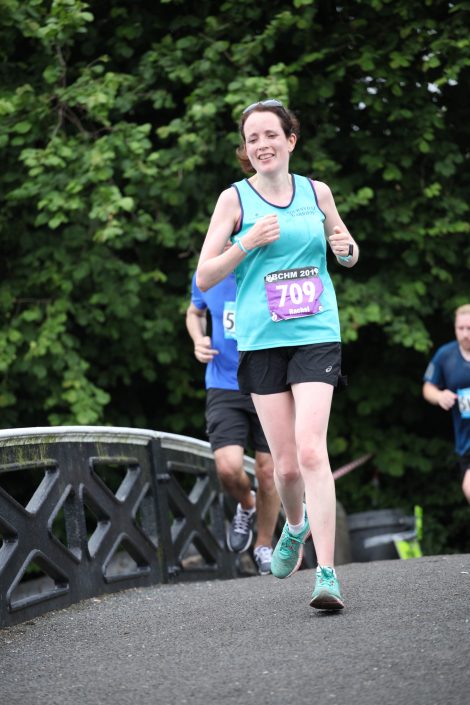 How long have you been a member of BvH?
I joined after the Beginners' course as a very lapsed runner in June 2016 just over a year ago now. I loved the course, and appreciated getting fitter and faster; I didn't want it to stop. I know everyone says this but joining was definitely one of my best life decisions.
The hardest part was the Beginners' race itself last year as it was very stormy and I am normally terrified of thunder and lightning – facing that meant I was ready to face anything! Throughout the race I kept counting the seconds to see how far away the lightning was….
If you see me in the Pavilion Bar you can buy me a…
Thanks for asking, but that's complicated.  If it's a week night then I'd normally go for Lime and Soda, but a pint rather than a half please and definitely with ice and lemon. If I have something to celebrate (and normally the littlest thing counts!) then I'd love a glass of Prosecco, but I'd settle for a small glass of white wine or a G and T.
It's a shame that they don't serve bananas, or I'd be cheeky and ask for a banana as well. Since I've started running I've had two bananas every single day. And, thanks to Nic Sykes (our Head Coach), for the last two months I've had an egg in my porridge each morning. I also am developing an addiction to strong filter coffee before races.
Favourite Racing Distance?
I'm not sure if I've run enough to answer this properly. The distance I have run the most is 5k though at parkrun. I enjoy going regularly to Cannon Hill Park; I love the buzz, and the inclusive atmosphere, and having a chat afterwards. It sets up the weekend well. I know that it's not a race but it's still been very satisfying to watch my times going down. Do give it a try if you haven't already.
I've done several 10k races since April, and although most of them have been pretty hot they've also been fun. It was amazing to go on the recent Newbridge weekend and the whole weekend as well as the Thoroughbred Kildare 10k race was fantastic.
Favourite Race/Event?
Although it doesn't narrow it down I love running for BvH in teal locally. You feel like such a celebrity and the support from Bournville Harriers with the noise from the cowbells, photos and shouts is amazing; it's very touching that other club members are happy to give up their time in this way. The V35 Ladies' Road Relays back in May at Sutton Park was a highlight for me as I made it (just!) onto the first team, and managed to get onto the England Athletics' twitter feed. I am excited about Birmingham Half Marathon this October.
I also feel that I should put a shout out for Reps. I love pushing myself on a Thursday night, and they have helped bring out my (now rather over-active) competitive side. They are worth committing to each week as I when I did this from the start of this year my race times began improving.
Proudest Moment as a Runner?
I'm very proud to have been chosen as member of the month – thank you. It was lovely to be nominated by Mathilde – although I probably should have got in there first and nominated her as she's been great at listening to me, and I love her sense of fun, energy and integrity.
The club is brilliant at making you feel valued; I've appreciated having my times and PBs read out as part of the club notices. It's very good to feel you are achieving, and that it matters. I've been really proud of the improvements made by the other beginners that started with me.
My biggest achievement to date was a couple of weeks ago at the start of July when I broke my half marathon time from more than 9 years ago by fifteen minutes at the Birmingham and Black Country Half Marathon.  I was desperate for sub 2 hours, and got there with a ten minute buffer. Nine years ago I trained on my own, but this time I had loads of advice and encouragement from the club and it made a real difference. I'm particularly grateful to Nic Sykes especially who made use of her expertise to help me with a training plan. Although I'm not naturally a disciplined person I was determined, and didn't want to let Nic down, and I stuck to the plan religiously. Rich Sheering was also very kind (and patient) to pace me round the course. Although he did encourage me to sprint for the line which made me throw up! Thanks Rich, it was definitely a price worth paying.
More generally I am keen to get teenagers running – girls especially – and to break some stereotypes about people that run. I'm an English teacher, and my year 11 form group were lovely last year and asked me about my races each week – they were very keen to hear about the PBs! I was delighted when one of them started doing parkrun with her Mum. I have also been working on a couple of colleagues. It was fun when one my year 10 student, who is a young triathlete, took me running a couple of times during our residential writing course. He was a terrific trainer! Last week, we had the 6 mile school walk, and I ran it with the Head of PE and lots of boys; I managed to persuade two girls to join us. I was so proud of them.  I am planning to run the London Marathon for Mind next year; I will be talking in school assemblies and raising awareness for mental health in teenagers as part of this. Running is excellent for stress, and growing up is an increasingly stressful time.
If you were trying to entice someone into joining BvH, what would you tell them about the club?
Why on earth wouldn't you? It's time and space for you and a chance to breathe.
It's also great fun, and you can meet some fantastic people. BvH felt very quickly a place where I felt I belonged. I love the fact that there's such a diversity of members. In my life I don't think I have ever been part of a group of people with such varying experiences, ages and backgrounds. It is very enriching and feels like a community. This especially important as in the current political climate people can regard each other with fear and contempt.
Additionally, people have a misconception about running clubs – it's not just for super-fast people (although BvH has some of those) but it's for everyone. After a bad day at work I can go running and by the power of endorphins it is all forgotten.  It's good for the soul to run outside and embrace what nature has to throw at you.
If that doesn't work I'd tell them that teal is the best colour, and suits everyone! I certainly have acquired a disarmingly large collection of teal items within a year. 
Murakimi talks about the rationale for running in What I Talk About When I Talk About Running which is one of my favourite books. Worth reading if you haven't already given it a try. Being part of a club can help you achieve this:
"Most runners run not because they want to live longer, but because they want to live life to the fullest. If you're going to while away the years, it's far better to live them with clear goals and fully alive then in a fog, and I believe running helps you to do that. Exerting yourself to the fullest within your individual limits: that's the essence of running, and a metaphor for life — and for me, for writing as whole. I believe many runners would agree."  Haruki Murakami
August 2017 – Kevin Jackman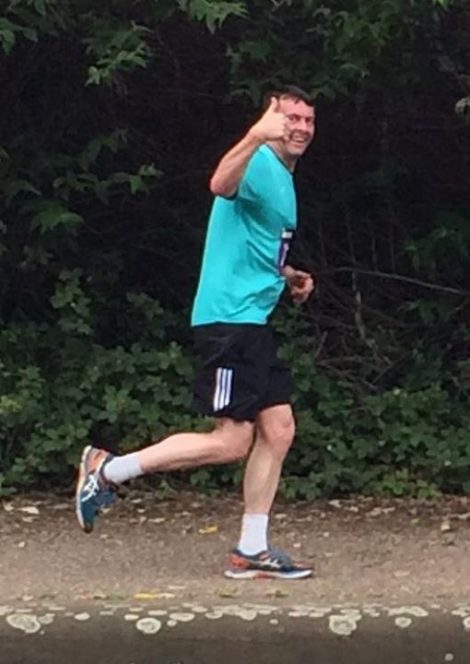 How long have you been a member of BvH?
15 months
If you see me in the Pavilion Bar you can buy me a…
Gin and Tonic
Favourite Racing Distance?
Half Marathon
Favourite Race/Event?
 The Thunder Run because it something I wouldn't have done had I not been a member of Bournville Harriers and was my first weekend event away with the amazing tealsters.
Proudest Moment as a Runner?
Completing the Droitwitch Half as I was injured and had doubts about doing it so this was toughest mentally and physically.
September 2017 – Lisa Thompson
How long have you been a member of BvH?
Since January 2016. I started running at school in the 1980's; since then I've done most of my training alone, or at times with my dad or sister. I joined BVH because training for ultras on your own can be lonely, and I wanted to feel part of a community too. Also I'd felt like a member of BVH prior to 2016 anyway, as I knew many of the lovely BVH runners through my sister, who was a member for many years before me.
If you see me in the Pavilion Bar you can buy me a…
Red wine or Peroni with a squash. I like to hydrate while I'm dehydrating!
Favourite Racing Distance?
Anything that sounds long, impossible or stupid, 30 miles, 50 miles, 100km, 100 miles or 200 miles! I'll give it a go and prove it can be done. I've finished every ultra that I've started, 10 races now and 5 of them were this year. I love the ethos that Dean Karnazes, legendary ultra runner follows:
"Our bodies are capable of amazing physical deeds, if we could just free ourselves from our perceived limitations and tap into our internal fire, the possibilities are endless."
I am not a person who is brimming with self confidence, I'm not sure any of us are if we're honest. However, I always have a curiosity about what I'm capable of and love to test my limits and give a big challenge a go. This curiosity and test then becomes such an epic, fantastic adventure where I learn more about myself and make some amazing friends on the way. This always leads me to expand what I thought I was capable of, hence in 5 years I've gone from running my first marathon in 2012 to running 200 miles across GB this year. Who knows what might be next?! 
Favourite Race/Event?
I'm not sure I can decide, although I can say with conviction that my favourite race wasn't the recent Birmingham marathon! However from the friendliness and community of parkrun, to the beautiful landscape in my 250km Fire and Ice ultra, to my most recent epic 200 mile adventure, where I was carried by the love and support of my family, friends and BVH teal team mates, there's something I love about them all. 
I recall my most recent favourite moment though, it was when I saw the Humber Bridge at mile 184 of 200. I cried with immense pride and joy as I knew then that I'd powered myself from the other side of the country (from Southsea) and that no one could ever take this away from me. 
Proudest Moment as a Runner?
Apart from the pride I feel when I finish ultra races, my proudest moment was when I was featured in November 2017 Runners World. I was chuffed to highlight the fabulous club that BVH is and share how running can improve well being and transform lives. Running has not only helped my emotional health it has enabled me, through the charity I work for, to support survivors of sexual abuse to increase confidence, run new distances and feel proud. I was delighted I could use the article to put across a positive message to everyone, but especially to survivors; you don't have to be the most confident, fastest or best to succeed, you just need to be bold, begin and challenge what you think you're capable of.
If you were trying to entice someone into joining BvH, what would you tell them about the club?
It's open to all. It doesn't matter whether you are thinking of running your first 5km and joining our beginners group, or whether you're already a seasoned runner, everyone can participate and enjoy. If you take 20 minutes or more to do a mile, or 5 minutes or less, BVH will help you perform at your best. Life is too short to miss out on being a member of this friendly, encouraging club; if you're thinking of joining, just do it!
October 2017 – Dave Powner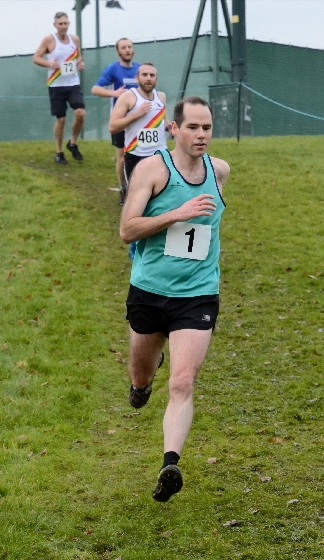 How long have you been a member of BvH?
I joined in November 2014, after being disappointed with my performance in the Birmingham half. I felt that joining a club was what I needed in order to improve.
If you see me in the Pavilion Bar you can buy me a…
Can I be cheeky, and ask for two halves instead of a pint? I'll have half of whatever ale they've got on, and a half of Hop House Lager, just in case the ale is awful.
Favourite Racing Distance?
I enjoy half marathons the most, but I don't do very many. I sign up for 10k races more than anything else.
Favourite Race/Event?
Ironbridge half. It's a tough course, mixing trail and road, downhill for the first 8 miles, and uphill for the last 5. Scenic all the way, reasonably well supported, and good technical t-shirts to be had.
I'm keen to get back to Swansea 10k, having missed it for two years, after doing four in a row. It's hugely supported, scenic, and flat. A real PB course.
Proudest Moment as a Runner?
I've not yet achieved what I think I'm capable of, although I have closed in on a couple of targets this year.
So as embarrassing as it is, I admit that my proudest moment remains being the holder of the Strava CR for the uphill sprint segment in Sutton Park, achieved at the Masters Road Relays in May.
I do have a couple of proud moments as a coach, but I shall spare you the details, and I expect there will be more of them to come!
If you were trying to entice someone into joining BvH, what would you tell them about the club?
We've got members of your ability, we've got members with your mindset, we've got sessions, races, and social events to suit you. 200+ members can't be wrong!
November 2017 – Anna McManus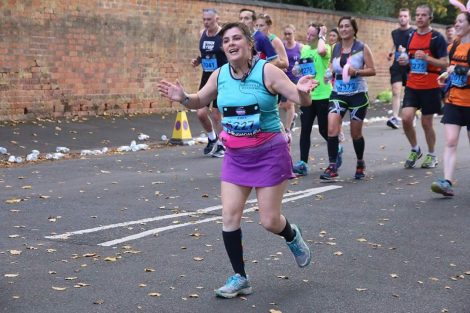 How long have you been a member of BvH?
I have been a member about 18 months.
If you see me in the Pavilion Bar you can buy me a…
Lemonade.
Favourite Racing Distance?
Half marathon. It is the right length for getting into a steady pace but not so far that to quote Simon Newman 'you can't walk afterwards'
Favourite Race/Event?
My favourite event has to be the road relays. The club support you get at them is amazing. Cowbell power up that last hill and just a great feel good afternoon. You really feel the teal family at them. 
Proudest Moment as a Runner?
I don't really have one. Every race is different, everything you do in running is different. Bournville Harriers are always proud for me so perhaps this question is best asked to Jude, Suzanne or one of the other Harriers
If you were trying to entice someone into joining BvH, what would you tell them about the club?
I would have to tell them about the love and support the club gives everyone. Not just in running but in life in general. The club looks after us all. If you are not well they are still there, checking in seeing if you need anything. I love that about the club. Also I would tell them about the no-one runs alone rule and no-one is too slow to be a Harrier.