Orlando Corea takes the Warwickshire XC Championship individual Masters victory and the BvH Men's teams are winners in the Masters category and a superb 2nd team in the Senior Men's event..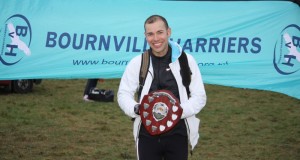 A great turn-out of BvH Men in both the Senior Men's race and the Masters race in the Warwickshire County Cross Country Championships, held at Solihull.
Orlando Corea took victory in the Masters category with Paul Thompson 2nd and Rob Andrew 4th.  BvH retained the Masters team title for the forth year in a row.
In the Senior men's event the BvH was lead home by Gary Blackman who was a brilliant 6th in the race, and duly invited to represent Warickshire for the Inter-Counties XC in March at Cofton Park.  Gary was followed home by great perfromances by Gareth Cadd, Chris Collins and Rich Bayliss to take 2nd team awards, behind Coventry Godiva.  Matt Cook ran as an individual and finished in 12th place in the Senior men's competition.
SENIOR MEN
Pos
Time
Name
A/Cat
No
Overall
6
0:32:35
BLACKMAN, Gary
SM
503
6
12
0:33:50
COOK, Matthew (IND)
SM
506
15
16
0:34:33
CADD, Gareth
SM
499
23
23
0:35:47
COLLINS, Chris
SM
502
38
25
0:35:58
BAYLISS, Richard
SM
504
41
38
0:37:47
CHATWIN, Sam
SM
501
62
52
0:41:28
HARLAN-MARKS, Chris
SM
505
112
57
0:44:44
GORMAN, Paul
SM
500
145
 
 
 
 
 
 
MASTERS MEN
1
0:33:27
COREA, Orlando
V
718
11
3
0:33:44
THOMPSON, Paul
V
708
13
4
0:34:04
ANDREW, Rob
V
707
16
9
0:34:51
PARKER, Dean
V
719
27
24
0:37:45
PEARSON, Stuart
V
717
61
46
0:39:48
GARDNER, Barry
V
711
93
61
0:42:08
HARTLEY, Edwin
V 
720
113
72
0:43:18
MUGRIDGE, Stuart
V
712
125
77
0:43:32
DOHERTY, Terry
V 
722
131
81
0:43:46
DUGMORE, Paul
V
715
136
96
0:45:14
GITTINS, James
V
714
153
118
0:53:30
ROBERTS, Barrie
V
721
178
Results here
Photos by Caroline Harlan-Marks here