Marianne Hensman reports: Half marathon preparations this time probably weren't ideal. Travelling across timezones, discovering a liking for peanut butter chocolate brownies, and my worst nightmare – arriving at the race 20 minutes after it had started because of a misunderstanding about start time!!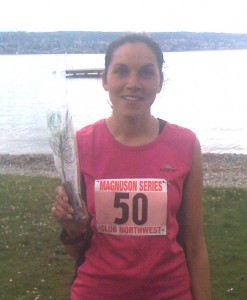 Luckily the organisers in Magnuson Park Seattle were very relaxed about the whole thing. "Oh just start on an exact minute and we'll subtract however late you were. Lots of people arrived late today!" Paul my husband, and our friend and Seattle host Gabriel lined up for the 10k, which was going on at the same time.
The course was four laps of a very pretty park on the borders of Lake Washington, a little bit twisty turny, but very nice. The half marathon was taking place with a 5k, 10k and a 15k, and everyone was taking part from families to parents with buggies, and dogs, so a few people to dodge around.
Our friend Gabriel plays ultimate frisbee and is very good over short distances. I just about managed to keep up with him for the first 5k. He and Paul then ran together for the second 5, although Paul was out-sprinted at the end!
Support was good all the way round with lots of shouts of 'nice job' from marshals and spectators. Luckily it was a cool cloudy day – ideal for running. I finished in 1.32:44 – second overall in the half and first lady (although only 26 people ran the half!) The morning was completed by the planting of blue pine trees in the park. And I really enjoyed my chocolate malted milkshake afterwards.