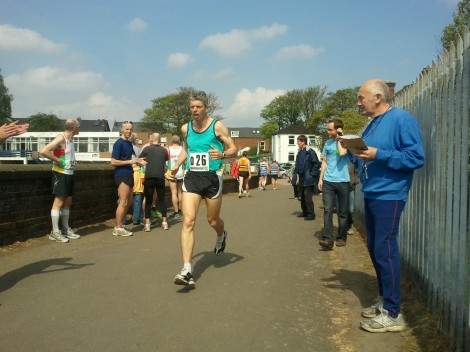 Gareth Cadd reports: This was my first outing as Relay Manager and to be honest I was quite stressed on the morning wondering if people were going to be late or even not bothering to show.
My fears were quickly put aside as Mel and myself got stuck behind Jon's "bus" en route to Edgbaston reservoir and Stuart already being there when we arrived. We went into the weekend originally with 3 teams, two M35 and 1 M45 (2 x 4 mean and 1 x 3 men).
The course consisted of two laps of the reservoir that measured to 3.2 miles per leg.
The C team consisted of Bob Hockenhull, Martin Foster and Barrie Roberts. Unfortunately, Barrie was unable to run due to illness but Bob and Martin showed great character by still running their legs even though they formed an incomplete team. Bob was the first to run and he ran a very credible 21.19 then Martin ran 22.51 and was happy to have the opportunity to get a hard run in.
The B team consisted of Stuart Pearson, Steve James, Paul Dugmore and Adrian Fowler. Stuart was first run put in a good time of 18.20. Then Steve ran a strong 20.04 despite the unorthodox "running away from the man with the numbers" warm up technique. Paul ran next and put out a time of 21.01 and a strong final leg of 18.48 was put out by Adrian.
But the glory was taken by the A team and are now the Midland Master Relay Champions and they are Andy Halliday, Jon Grix, Andy Clayton and Rob Andrew.
Andy Halliday lead out the A team and ran a very impressive 16.45, he came in 2nd hanging on to a very strong runner from Leicester and gave the rest of the team a fighting chance to catch up. Jon went out second running 16.49 and quickly caught, passed and left the lead guy behind. Jon built up a considerable lead to hand over to Andy Clayton on the third leg. Andy C managed to avoid injury hurdling over the bollards in order to lap some other athletes and stave off any come back attempt from Leicester. Andy ran a solid 17.48.
Our resident European champion Rob Andrew ran the final "glory" leg. Rob put in a good performance of 17.08 (estimated time as the marshals made an error with the timings) and saw that the race didn't even finish close.
The results are as follows
A Team, 1st place in a total time of 01:08:30
B Team, 6th place in total time of 01:18:13
C Team, DNF
Full results. (PDF)
A big thank you to the following for coming out and showing their support. Barrie, Mel, Joe, Sue, Rachel, Martin's Wife and Stuart's girls.