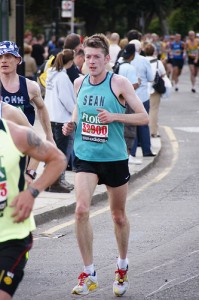 Sean Rose on his London Marathon experience: Finally at last I can hang my bib up!…Never Again! Honestly! It's taken 3 attempts over 5 years but at last I've broken the sub 2:45 mark.
Significant because I can now class myself as a Championship runner…..woo hoo!! What is there now left to aim for I ask myself? (any excuse to avoid the inevitable pain and hardwork that would come with trying to get quicker).
I guess I have two stories to tell. One would be about my training and learning over the 6 London Marathons I've now done since 2003 (I think that was the first….old age creeping in?) which has taken me from 3:12 to the 2:45. The other is purely about Sunday's race. I'll leave the former for another day and no doubt a drunken conversation at the Christmas party…."in my day…hic".
So to Sunday.
If anyone had heard me moan and groan over the past 8-10 weeks they would have known that I'd drifted (because of illness) from being in the best shape of my life and looking at a sub 2:40 certainty, to in the last 6 weeks having to prove to myself that it was worth while going down to tackle a sub 2:45. All the indicators said 2 things, 1) I was stronger and quicker than 2 years ago, 2) my overall affected regime was no worse than 2 years ago, so QED I'd scrape it if I had the same level of residual endurance!
In the end that's how it panned out.
This year I had decided to be a bit more chilled and look at running the first half at 6:15 pace and push on in the second half at 6:10 – 6:12 and then see what was left from 18 miles onwards. With regular fuelling I was hoping to have enough left in the tank to keep me going at a decent pace to the end and I might just squeeze a negative split out of things. This was a slight departure from 2 years ago where I was planning 6:10s in the first half and would suck it and see.
I haven't yet analysed my splits in detail but it looks as though my basic plan went out the window (no negative split) but I did run the first half this year marginally slower than 2 years ago (only 8 sec though). This year though the big difference was how I handled the second half and despite feeling like dying managed to slow the rate of decline and even find effort to "kick" (if you can call it that) in the last 3 miles.
No doubt I'll be analysing and re-analysing my Garmin over the next couple of weeks but now for the race itself.
I started slow with a slow 6:25 m, being 25sec off the start and resisting overtaking the minor crowd in front of me. After that I got into my running and realised that actually 6:10-12 felt like a comfortable target. This year I made a big effort to enjoy the event (it being my last) and tried to clap the crowd and enjoy some of the moments and massive encouragement I was getting from having my name on my vest. It's such a benefit from being further up the field that not many have their names printed and you do feel that people are supporting just you! Having said that I did have to resist the occasional urge stop say to some people that its not "SEEN" but "SEAN". (The Ting Tings were so right!)
I only spotted one Harrier watching and that was Becky. She was wise enough to call out "SEAN ROSE". No one else in the crowd would know my surname so I glanced over my shoulder and got the "go on keep on running and concentrating look"…..note to self to not coach Becky as she can turn the tables 🙂 . I heard a "come on Bournville" a couple of times but was far too much in my own world to recognise who was shouting.
The other thing that I remember was racing with Fred Flinstone for 2-3 miles. Nothing like making you feel inadequate when you are using a cartoon character as a pace setter! In the end I had to kick and leave him because it was just getting embarrassing.
So at Tower Bridge I saw the family which was a big boost and I plodded. Strangely I always felt wary. Though I felt like I was running well I was plagued with doubts "would wearing my race flats haunt me at the end"…."things didn't feel quite 100% efficient". 13, 14, 15 went by and things seemed fine and I felt relieved that actually I didn't need to go any faster than 6:15 as I'd had a good first half so onwards and upwards. Then the race all went weird because there in front of me was Dean. Something couldn't be right and then I knew it wasn't because I wasn't just gradually catching him but he was virtually going backwards. I got to his shoulder hoping that I'd be able to run with him for a while and get him threw a bad patch but he indicated things were wrong and encouraged me on. So reluctantly spurred on I kept the same pace through 17 and 18.
Finally it happened. Like someone turning a switch my left leg gave in and I started running with a hobble. The flats????? That though seemed to not be the end of it and soon I could see from my Garmin that my pace was rapidly drifting, everything started to hurt and my mind started to go fuzzy. 19 until 23 was pure grin and bear it as I hit the wall. At 22 I honestly thought that anymore and I'd have to stop. I was pulling all the usual tricks of rotating running styles and giving myself a range to hold the pace in. I carried on fuelling and then as if by magic the fog cleared and the leg stopped hurting. I guess partly because the body had given in trying to stop me and was committing its final resources to the effort and partly because I got some sugar into my blood to bathe those essential organs. Now things just hurt and I had 3 miles left. 3 miles in which I now had the awareness to workout that I would have to run hard to reach my target.
I'd have to kick on but how. I guess here is where the experience and the strength I'd built up over the cross-country season and just being able to run and race hard paid off. I could tell that despite my body being in tatters and my energy was sapping away that actually my breathing was OK. My aerobic capacity was still there..ish. So mentally I made it like the end of a shorter race where you're at your aerobic max and screaming for air. Get the lungs working, get the air in and I may just be able to burn the fuel a bit more efficiently. Latch onto anyone and everyone around you and perhaps I could maintain a pace. It's fair to say it worked. Mark H has since e-mailed me to tell me that at 40K I was on for 2:45:10 and over the last 2.2k I made up 30 sec. Needless to say it had to be done because as I turned onto the Mall to see how far I still had to go and how little time I had so I sprinted (as much as you can do at that stage).
The end was a blessed relief!!
Never again! (tbc)
Sean's official timings:
| | | | | |
| --- | --- | --- | --- | --- |
| Split | time | diff | min/km | km/h |
| 5K | 00:19:17 | 19:17 | 03:52 | 15.57 |
| 10K | 00:38:14 | 18:57 | 03:48 | 15.82 |
| 15K | 00:57:21 | 19:07 | 03:50 | 15.70 |
| 20K | 01:16:37 | 19:16 | 03:52 | 15.56 |
| HALF | 01:20:48 | 04:11 | 03:49 | 15.76 |
| 25K | 01:35:42 | 14:54 | 03:49 | 15.72 |
| 30K | 01:55:16 | 19:34 | 03:55 | 15.33 |
| 35K | 02:15:33 | 20:17 | 04:04 | 14.79 |
| 40K | 02:36:16 | 20:43 | 04:09 | 14.48 |
| finish time | 02:44:41 | 08:25 | 03:51 | 15.65 |