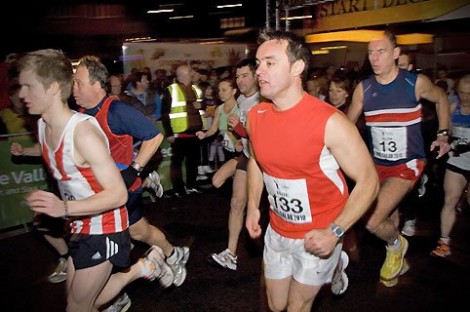 Barrie Roberts reports: At 3pm on New Year`s Eve in company with my wife Katie I left Birmingham and headed for the Welsh Valleys. We arrived at the Day Centre in Mountain Ash by 6pm and I was able to register for the Nos Galan Senior 5km Road Race due to be held later that evening.
There was the usual `carnival atmosphere` associated with this unique event,which includes races for different abilities and ages. Nos Galan, the Welsh for New Year`s Eve, gave its name to these famous races which began in 1958.
The 5km Course consists of three clockwise laps in and around the town centre with `equally balanced` up-hill and down-hill stretches. Running conditions were good, dry underfoot with negligible wind and a temperature of 5 – 6 degrees centigrade (a marked contrast to the two previous years when sub-zero conditions prevailed!)
I lined up in the Front Row at the 7-30pm start of the Senior Road Race and got away to a brisk start thus avoiding being trampled on. I enjoyed what was a relatively a quick start for me and found that I was able to run freely without having to spend too much time avoiding or overtaking people.
The support of the crowd, which included Katie and my daughter Helen, was also an encouragement to all the participants. I completed the three laps in a time of 00:22:35 which is my best road 5km time for 2010. I ran `well within myself` and believe that I could have gone faster but with the WMAA 5 Mile Championships less than two days away I was `keeping my powder dry`(I needn`t have bothered!).
Just for the record, first home in the Senior Race was Daniel Bodman from Pontypridd Roadents in a time of 00:17:07. The last competitor finished in a time of 00:42:32 (But she completed the course and doubtless raised money for a worthy charity).
In the Elite Race, which started at 7pm, the winning time was 00:14:10 and there were quite a large number of athletes close on his heels! This just goes to show that the Annual Nos Galan Races at Mountain Ash continue to offer a very special and unique experience for runners of all ages and abilities. Why not give it a try next New Year`s Eve – you can still get back to Brum to see the New Year in.