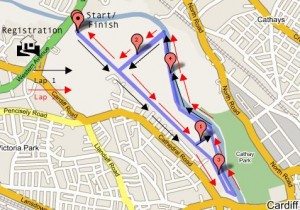 Barrie Roberts reports: In company with my wife Katie I arrived at the Race HQ – Llandaff Rugby and Athletic Club, Western Avenue Cardiff (next to UWIC) – in good time for the 1pm Start of the Annual Old Father Time Road Race, which incorporates the WMAA 5 Mile Championships.
I was running in the WMAA Championships. The 5 mile Course consists of 2 anti-clockwise laps around Pontcanna Fields/Sophia Gardens. The surface is mainly on concrete and tarmac paths and one has to be mindful of the `sleeping policemen` just after the Start and again at the earlier part of the second lap.
The sky was overcast and the temperature was 4 degrees Centigrade but with a chill wind. The 5 mile Course, as usual, was well marshalled. I was positioned in the front of the field at the start and managed to get away without being `run over` by those runners behind me. However,it soon became apparent to me that 3 races in 6 days was too much, and although I ran at a steady pace for most of the Race I was `off the pace`.
Also I had a slight URI but I don`t think that that made a lot of difference. I completed the 5 miles in a time of 00:40:16 and picked up a Bronze Medal in the M65 category. Having run a PB at The Nos Galan 5km Race less than two days before I suppose that I have to accept that my preparation for the Old Father Time Race was not ideal.
This Annual Race organised by Les Croupiers Running Club (a friendly Club not dis-similar to BvH) is well worth putting in your diary for next year