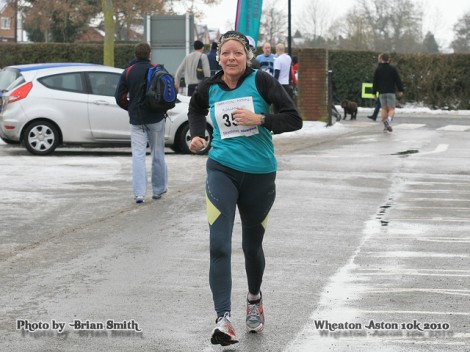 Lesley Pymm reports: What a difference a couple of days makes. This was the first time in two weeks that I have not worn spikies when I've been running.
Road shoes were the order of the day at Wheaton Aston this year, and nothing like as many layers of clothes as recently as it was above freezing – not much, but enough to make an incredible difference. Most of the course was fine. It was a slow start, but once we got going running was pretty good.
There were a couple of roads where there had been more shade and not so much traffic, so there was still ice, so we had to be careful. Just by the drink station at 5k there were a couple of llamas in a field who were leaping around joyfully, they seemed to appreciate the runners charging past them. The T-shirt was a technical one, so will be useful in the summer for training in.
Given the conditions, I was really pleased to finish in just under the hour. I don't think there were any others from BvH there – if there were, I'm sorry I missed you.