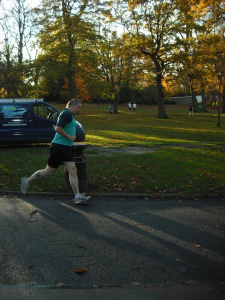 This week's report on the Park Run in Cannon Hill Park comes from new club member Paul Gorman:
I joined Bournville Harriers as a beginner this summer and really enjoyed trying to get fit again, surrounded by nice people in a good club.
I was not sure I'd ever be fit enough again to be honest. After a bad tackle on the football pitch 8 years ago tore my cruciate ligament and damaged cartilage, I have had numerous problems getting my knee strong enough to take part in any sporting activity.
Years of physio, numerous tears and setbacks, combined with two operations and a lot of determination means I am able run again (finally). I may not be able to play football again, but seeing how much my wife Laura has enjoyed being part of the club and how much she encouraged me gave me a new goal. I wanted to be part of the club too and be able to run with my wife. So now it feels great to be doing both.
Saturday 6th November was to be the day I tried my first ever race. I had chosen a 5k 'Park Run' in Cannon Hill Park, as I had heard they were good races but fun too. I have to say, it is very well organised for a free event and the volunteers do a great job!
It was a perfect day for running and I was feeling up for it. Laura was encouraging as ever and was there to cheer me on, as was Sharon Weldon who was volunteering as a Marshall that day (thanks a lot to you both).
Before the race, a friend of mine from the local punk scene was also running and made a joke about how I wouldn't be far behind him. I think that gave me an extra edge, as I was then determined to beat him (a bit of friendly competition is always good!).
I set off a little faster than I intended, but the nice flat course meant I was able to maintain that speed for most of the race, which was a good feeling. Having my friend in my sights for the whole race was also helpful!
I was really enjoying the race but pushing my hardest too, so I was surprised when I found myself at the last 400 metres. Where had the time gone!? I guess the nice views and amazing feeling of being able to run again had made the time fly. I felt like I had just enough left to go as fast as I could to the finish line, so I was glad to overtake 5 people before the end, which included my friend. Victory! LOL!
Any time I managed to complete the race in would have been a PB, but I had been aiming for about 25 minutes, which I would have been delighted with. So, I was very surprised when I came through the finish in 23:21.
I was delighted at the end, but rather out of breath after my over-excited sprint to the finish. After much spluttering I was ready for home and all set for a weekend with a huge grin on my face.
After all the problems I've had with this knee and all the pain it put me through, I am over the moon to be doing this and cannot wait for the next race! It's nice to be part of such a friendly and encouraging club, so thanks to everyone at the Bournville over the last few months for all your support, especially my wife Laura who has always said I would get there in the end.
Finally, well done to Angela, Andy and Lesley, who were the other Bournville Harriers running that day.
Bournville results: