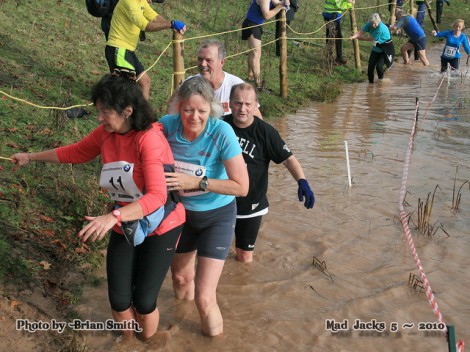 Lesley Pymm reports: This was a lovely run in the grounds of Attingham Hall, near Shrewsbury. This is property managed by the National Trust and the grounds are magnificent.
This was a really good event which started outside the house and then meandered around the deer park and woodland before finishing just after the infamous water feature. I got stuck behind a couple of women who were really having problems in the water, and the photo sort of shows me moving one of them aside so that I could get out and up the bank to run the last few hundred meters to the finish.
In case you are interested – Mad Jack was actually John Mytton. He was a local landowner who squandered all his money and there are many tales of his strange behaviour, much of which involved taking his clothes off. There was, until very recently, an annual run at one of the colleges in the US called the Jack Mytton run – and this was a mass streak. We should think ourselves very lucky that we were all attired in running kit for this event!
Bananas and water afterwards and then over the NT tearoom for something more substantial. Certainly worth doing again.
Lesley Pymm was 5th in her age category in a time of 0:57:01