Caroline reports….I had been looking forward to the start of the Centurion Grand Prix series since last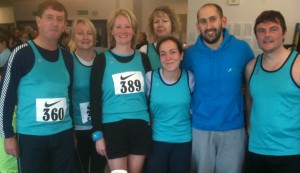 spring, but it snuck up on me much quicker than I expected it to. I spent most of the journey to Kingshurst this morning trying to convince Chris that I wouldn't actually be running today afterall, and he spent most of the journey quietly rolling his eyes at me. When we arrived we were pleased to see a large, friendly Bournville contingent also preparing to run, so in the end I decided to give it a go.
Today was the first race of the yearly, six race series, and it was friendly and well-organised as usual. For those who haven't run it in the past, the race consists of 1 short lap and 2 long laps (wrong order, in my opinion!) of a park in Kingshurst, near Chelmsley Wood, making 5 miles in all. It's technically a road race but, as Barrie Roberts remarked before the start, bits of it were bordering on multi-terrain today as the path was very muddy in places. It's a flat course with a sharp corner and a low fence to hop over each time round.
In the end, I had one of those runs that just felt weirdly comfortable and I broke my previous PB by a good margin. There were plenty of other strong BvH performances today as well, including a few PBs and a few more near-PBs. Well done to everyone who ran today. I really enjoyed being part of Bournville Harriers during and after the race, and if there had been an award for loudest table during the post-race prize-giving, we definitely would have won it!
Results
http://www.centurions.org.uk/grandprix/0711105M.pdf
Caroline came 1st female overall in 32.58 and Maggie Curtis came 2nd female in the female veteran category in 38.45