Kevin Oakes reports: I would like to report on the Canmore half marathon which takes place with in Canmore Canada through the rocky mountains.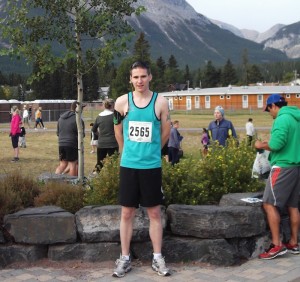 The course I would say would be on of the best half marathons courses in which I have took place in as the terrain varies from concrete packs to trail routes. In total there are around 7 elevations with the toughest lasting for a mile vertical climb which hits around the last 6k in the route.
Weather conditions was just right for my self to run as I believe I run better during warm weather but when this event does take place on the 09 sept I'm told the weather always seems to be very warm. The scenery through the mountain passes can not be beaten and I would recommend anyone who takes a holiday in Canada to give this beautiful event a try.
Also I felt extremely welcome by the other participants and the organisers not only you get a true to plant you also receive a buff which a made by the event organisers and a event metal flask. I'm afraid this is not a medal event but the free food and drink at the end of the event makes up for this.
The only thing I would suggest would be to fly over a good two weeks before the event to allow your body to acclimatise. I only allowed a week to acclimatise to the altitude of 4000ft which I believe slowed myself down and your lungs do struggle gathering oxygen which prevents your muscles working to there full extent.
Also watch out for the wild life the race has had the course changed in previous years due to the local bears strolling onto the course but on the other hand no one has been attacked or chased at all during the event.