Lesley Pymm reports: I had never run this event before, but was looking around for something to run on Sunday and found it via Runners World. It looked like a decent off road course, so I thought I would give it a try.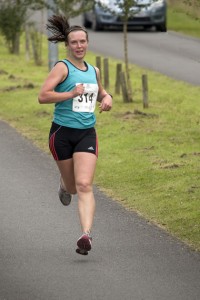 Hanging around at the start, I found Lisa Cartwright as well – she had a similar story to tell, and it turned out that this was her first 10k. There were only the two of us, so no chance in the team prizes then!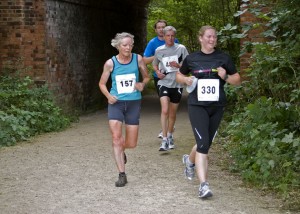 I had walked over some of the trails and was a bit worried that it may be congested at the start. I was pleased to see that the run actually started outside the car park at Waterside (part of the Conkers site) and so, buy the time we had gone through the car park and out onto the trails, we had time to sort ourselves out. I watched Lisa go off at a rate of knots and settled into my own run.
It goes over some of the Conkers parkrun course, which I had always fancied running, but could not justify going so far for a 5k parkrun. I was pleased to test it out over 10k. They said road shoes were ideal – I think they would have been this year as it was very dry, but had it been wet then trail shoes would have been preferable. I wore trail shoes and was pleased I did.
The run passed over Norbury's Meadow which was a bit of a climb so early in the race, then turned left onto the Ashby Woulds Heritage Trail (an old railway line). It was flattish along here until we got to Donnisthorpe Woodland, this was where Donnisthorpe Colliery used to be, and turned left to go onto the towpath on the Ashby Canal.
We ran along here until we reached Moira Furnace, where we dropped off the towpath to do a circuit of the Furnace, before going back to the towpath to run along to Conkers Waterside again. A loop around the car park and we were off on the second part of the run. This took us back up the climb over Norbury's Meadow and this time we turned right along the Ashby Woulds Trail.
In this direction there seemed to be more undulations! We skirted Albert Village, I could hear raised voices and assumed that this was support for the runners until marshals warned us not to worry about irate drivers as we crossed the road – I just tried a cheery wave and 'thank you' (not sure if that helped or not!) – and carried on regardless. We skirted Albert Village Lake, which provided a very welcome breeze before the final climb at about 8k. There was a brilliant downhill finish so that runners could look good at the end, however bad they had felt during the run.
This was a very supportive event, with both men's and women's records being broken this year as conditions were so good. At the other end of the field there were new runners who took around an hour and a half to do it. Everyone was clapped and cheered as they finished. There was a technical T shirt. There was also a fun run for the children which took place before the 10k.
Children who took part got free entry to Conkers and 10k competitors got 1/2 price admission – although there were vouchers available on-line to get discounts for a range of the attractions in the National Forest.
Lisa did really well on her début 10k – 47.20. I was pleased with my time although the official time of 56.48 is better than my watch time of 57.01 (which I suspect is more accurate!) I really must find a way to justify the journey to Conkers for the parkrun now!
Full results (PDF)