Lesley Pymm reports:  It was a shame that the weather was not great for this event based around the Salt Fest in Droitwich.  There was a lot going on and it would have been good to make a day of it, but not the best weather to have spectators hanging around waiting.  I left Mike at home and went over to do the run and then came home afterwards.  Had the weather been better, I know a lot of people would have taken advantage of all that was on offer in Droitwich.
The run starts on the canal, so this meant that it was a staggered start.  As I knew I would be pretty slow compared to others, I made sure that I was at the front and got off early.  The first three miles or so were on the canal, although there were little bits where we had to divert onto the road and then back onto the canal.  Fairly early on I ran past a family of swans;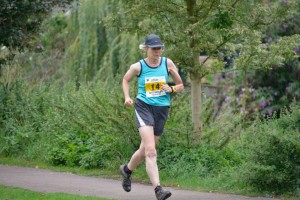 the parents moving the cygnets out of the way of these strange humans.
We then went off the canal and started to climb.  It was a good climb up to Hanbury Church.  We were told to make time for the views up there, before going on to pass through the grounds of National Trust property Hanbury Hall.  This was lovely.
Then it was back onto the canal again for the final couple of miles.  People on narrow boats shouted encouragement as I headed back to Vines Park where the festival was taking place.  The race memento was a useful bag and there was also sausage and mash at the pub which was the race HQ.  As a veggie, I had to wait a while for mine, but it was good when it came.  I then went to watch the presentations and picked up some local ice cream before wandering off to get the car and head home.
I am not a great lover of canal running (as people who had to put with me moaning during the Tour know) but this was broken up well and was quite interesting.  I enjoyed it, and on a better day we would have stayed and done the Cream Tea walk in the afternoon.  Maybe next year!!