Lesley Pymm reports:  This was the final event in the Telford AC Sexarathon Series.  I had not done this event before, starting at Harper Adams University, so got there in plenty of time in case there were any problems with the motorways.
For anyone who has followed my reports on this series – I had come second in my category in the first 3 races, but only by seconds.  I worked out who the woman was who kept beating me, and in the next two  events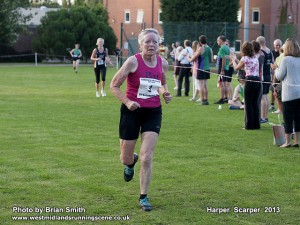 I made sure that I won.  This final race of the series of 6 was one where I expected to either draw (if I won the event) or come second (if she won!)
I warmed up and hung around at the start, looking for her.  I couldn't see her.  We started and went off along a road before turning off and along a lane through a farm.  I still could not see the woman I needed to beat.  I didn't think she was ahead.  If she was, she was so far ahead that I was not going to catch her.  What worried me was that she may have been just behind me and planning to pass at the finish.
The race went up a quite hilly road and then we went into a lovely trail type section through a wood.  Then it was back onto the road again and up to Harper Adams.  We cut back into the Uni grounds and finished on a field.
I still did not know what happened.  Eventually a friend came over and congratulated me.  I asked what for and he told me that I had won the W60 Series.  Apparently my competitor had been delayed at work and got there late.  Although it was good to win, I would rather have had her there to race.  Still – I put in the same amount of effort as I was not aware that she was not running.
A good series, technical T-shirt for those who ran in 5 of the 6 events.  Friendly event.  Just a bit of a long way from home.