Jude Glynn reports: Energised by the unusual appearance of the sun and a blue sky I decided on the day to enter this (after weeks of indecision!) and headed down the M5 to Worcester. There was plenty of free parking, with friendly helpful marshals directing and I headed off to register.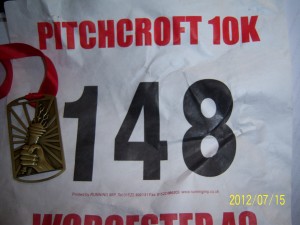 My completed (weeks ago!) entry form and a tenner were quickly exchanged for a race number and safety pins – with an optional bottle of water for those feeling in need of a pre race hydration 🙂
This is a fairly small race so I soon met up with my fellow Harriers- all five of us! Time to glance at the 2K fun run- which seemed to have some pretty fast youngsters running it and 'utilise the facilities' – permanent virtually queue-free toilets:) – before ambling to the start.
The course is three laps around the racecourse perimeter on tarmac. Flat, dry and not overcrowded this definitely has PB potential- although I think the guys had been collecting those the Wednesday before. I'm not a huge fan of laps but this was pleasant to run and fairly scenic – river, church spires, plenty of greenery and generally plenty of spaceand no puddles.
Water was provided on every lap so even I managed to leave my water bottle behind and rely on grabbing a cup and even managing to drink a small amount (the rest only reached the vague direction of my mouth and most ended up on the ground). Very much appreciated cheering and encouragement was provided every lap too from the lovely Brian Pearson watching from the grandstand- thanks Brian.
The race was won by Oliver Harradence (Sutton Coldfield) in 33.00
The first BVH home was Stuart Pearson with 37.51 then:
Paul Dugmore 43.19
Mark Doudican 44.56 (second PB in less than a week!)
Laura Gale 48.24 PB
Jude Glynn 49.38 PB
There was a nice medal for all finishers then it was time to head home as the car park would apparently flood in the afternoon! All in all a friendly, well organised, 'no frills' race which made for a pleasant morning out.