Lesley Pymm reports: There was a good turn out for this, the third in the Worcestershire Mid-Week Series. Unlike the other three events, this was a road race.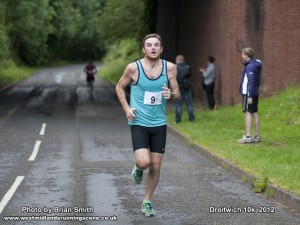 It was the first time I had run this particular course. The last time I completed the series there was a totally different Droitwich course, starting and finishing at a totally different place. I had been told before it started that this was a boring course, so just went out there thinking that it was just a run that had to be done to complete a series.
It was a longish walk/jog to the start from the race HQ, so good for warming up. The rain had stopped, although it looked as if it may start at any time.
The race started with a downhill – and as we came back the same way, that meant that it was going to end with an uphill. It was not a boring course really. It was undulating and gave plenty of opportunity to use different muscle groups. It was what I have heard called a 'saucepan' – we went out for a while, did a loop, then came back on the same route as we went out. Somewhere in the middle we went past a mill.
Care had to be taken on the roads as there were potholes and it was muddy in places. Generally it was a decent road 10k (that from someone who does not like road races!) I had a bit of a problem in the last mile or so as I swallowed a midge or fly and started choking. I ended up coughing the whole of the last mile. It was a bit scary really, but got back in one piece to drink gallons of water.
Thanks again to all of you for waiting for me to come in before heading off to warm down – it really is appreciated.
Once again, Linda and Sarah did well for the women, coming 1st and 3rd respectively. Sam was 4th man, with Stuart coming in 14th. They normally send a spreadsheet out which gives standing over the series so far, but I have not seen it yet.
Results (PDF)