David Mountford Reports:
The story of running the 2016 New York Marathon goes back a little way for me…
Background
In 2014 I ran the London Marathon. It was intended to be my one and only marathon, but it didn't go as well as I'd planned. Afterwards all I could think about was scheming up various ways to get back to London to redeem myself. And then it occurred to me…
If I was crazy enough to consider spending a bunch of money, and overseas entrants to World Marathon Majors can get guaranteed entries, could I do one of the two marathons sat atop my wishlist – New York or Chicago? My good friend and fellow Bournville Harrier Dean Farmer had run New York, which gave me the original idea. I'd always wanted to visit America. It always sounded like dreamland thinking; something that would never happen.
I've since run other marathons but New York was always in the background as The One I Wanted To Do. After lots of internet searching I decided to go with 2:09 Events. They offered various options of flight only, hotel only, or the complete package of flights and hotel, which was what I went for. They also offer a choice of hotels, and a wide choice of days to fly out and fly back. I could customise the trip as I needed.
In addition, the other major reason I signed up with them was because they hold two training/prep days throughout the year, a chance to get to know other people in the group. Which was useful because school half-term dates didn't coincide with the marathon (my wife works as a SENCO in a school and we didn't want to take our little girl out of school) so we decided I would be best to travel on my own.
I planned to go in 2015 but I didn't save as much as I'd wanted to (for which read I didn't save a penny) so reluctantly I put it back a year to 2016.
Over the summer this year 2:09 Events sorted out all the logistics for me – race entry, flights, hotels, airport transfers – all I had to do was check I had the right (biometric) passport for the US, apply for an ESTA online, and complete a couple of online forms for New York Road Runners (NYRR) who organise the marathon.
Injury
My build-up to the marathon hit a major snag in the form of injury. A torn hamstring and highly aggravated piriformis (a stabilising muscle underlying the glutes which connects from the spine to the hip, and which when tight, presses on the sciatic nerve – ouch) meant I was unable to run for nearly a month. My hamstring and piriformis were so weak that every run came out as a painful, lop-sided shuffle.
Things began to look as though I wouldn't make it to New York, but with the help of Harborne Physio & Acupuncture, I finally got back to running about three weeks before I was due to leave.
It changed the objective. Originally I'd been looking to run somewhere around 03:30-ish. Now the plan was to run a slow, steady, and above all sensible and safe race, and just get round and enjoy it.
Before the Marathon: Manhattan and Sightseeing
We flew out of Heathrow on the Thursday prior to the marathon. After a long wait to get through immigration at JFK airport in New York, 2:09 Events met us all in the arrivals area and had organised a bus transfer to the hotel.
(Note: I say "bus transfer" – it was actually a small coach, but after five days in New York I'm now basically an American, so I'm allowed to call it a 'bus'. Similarly, although my room number when we got to the hotel was 1003, that's no longer "ten-thousand-and-three" in my head; it's the more American "ten-oh-three". Just so you know.)
Anyway, having never been to America before, my eyes were a-goggled on that coach – sorry, bus – journey. American cars! American traffic lights and road signs! ACTUAL YELLOW CABS! We passed a couple local parks (I'm allowed to say this instead of "a couple of local parks" – I'm basically an American, remember) and instead of soccer (*ducks for cover*) goalposts there were baseball diamonds and people throwing pitches, JUST LIKE IN THE MOVIES.
I was so excited I felt like a big kid. Which was part of the deal – I was supposed to, this was the trip of a lifetime after all. And for the next couple of days this feeling never left me. Which was both a blessing and a curse, to be honest. There was so much to see and do that my head felt a bit overloaded.
Also, sleeping in Manhattan isn't easy at the best of times. The place is noisy. In Manhattan, accelerator pedals in cars are connected directly to the horn, so as soon as they start driving they start beeping – this is pure fact*. Also, if at any point drivers feel just a little bit bored, it's perfectly acceptable to relieve the boredom by beeping the horn just a bit more – also a fact*. And when Paul Simon, who is from New York, wrote Simon & Garfunkel's The Sound of Silence, it's absolutely entirely true* that the original title was actually The Sound of Sirens.
(* I just made this up)
By the way, drivers in Manhattan are crazy. The only people more kamikaze than them are the pedestrians – but I quickly grew accustomed to this. By the time I'd been there a couple of days I was happily stepping off the sidewalk (yes, I know) directly into the path of oncoming traffic without batting an eyelid or thinking OHMYGODWE'REALLGOINGTODIE like I did when I first arrived.
Over the course of Friday and Saturday I ran in Central Park, went to the Expo twice, where I managed to squeeze Bournville Harriers onto the wall of names. I felt extremely proud to be representing BvH overseas. My Team Teal cap was worn proudly everywhere I went, and my BvH tee caught the attention of some of the group who'd heard of the club. I was happy to eulogise!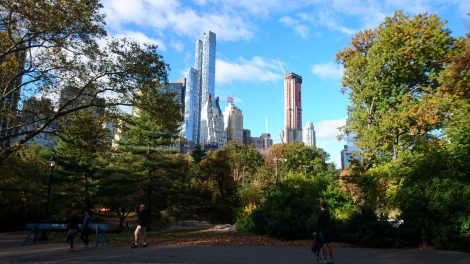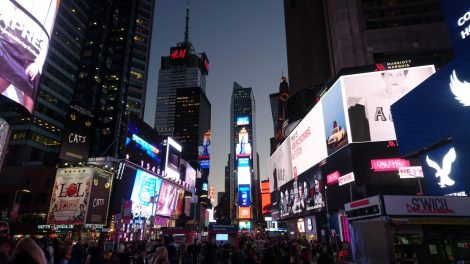 I also visited Broadway, 42nd Street, Times Square, Radio City, the Rockefeller Center and the 9/11 memorial (my goodness, that's a deeply moving place – you can feel what happened there)
The Marathon
Surprisingly, I actually slept well the night before the marathon, helped by the fact that the clocks went back in America that day, a week later than they had in the UK. So I had an extra hour's sleep but was still able to wake early, with plenty of time to get myself ready.
2:09 Events had arranged their own buses from the hotel to the Staten Island Ferry, which would take us to the race start. We left the hotel at 06:15 with the sky still dark. By the time we were on the ferry the morning was bright and clear, with yet another beautiful day ahead. And another treat for over-excited tourists like myself: a trip past the Statue of Liberty en route to the race start.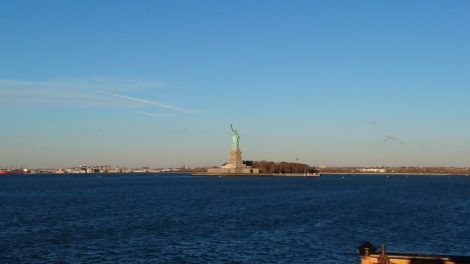 Except when we got off the ferry we weren't quite at the race start. Fort Wadsworth, where the race start was, was another two or three miles away. Which meant another bus. Which meant more queues. But, of course, there were tens of thousands of other runners (the New York Marathon has something like fifty-five thousand runners) all doing the same thing. There was an unbelievable crush of people queueing to get up a single small staircase for the buses to the start. And then all the buses sat in an enormous traffic jam going nowhere. I missed the start of wave one, and only made it into wave two with roughly a minute to spare.
The Verrazano Bridge at the start of the race is immense, stretching out in a huge span across the water. Being that far out from land made it freezing cold in the shade of the lower deck, and gusting with extremely strong winds. Being on the lower deck meant my Garmin couldn't get a consistent signal and right from the start it was out of sync with what I was actually running. That first mile was also very congested. However, the bridge was nowhere near as steep or as challenging as people say it is.
Back off the bridge and into Brooklyn, the weather was gorgeous – blazing sunshine, twenty degree heat; not at all what we'd expected from New York in November.
The support was utterly amazing. All the way round the course the crowds didn't stop, didn't thin out, and neither did the cheering. People had megaphones, or had brought their stereos out onto the sidewalk, or there were live bands. All at a scale and volume I'd not experienced before, and which put a huge grin on my face.
And the signs that people hold up are legendary!
"No time for Walken" (next to a picture of Christopher Walken)
"Welcome to the Bronx – run for your life!"
"There's bacon at the finish"
"Keep swimming"
"Mike: this is a sign" (some guy had obviously been pestering his mates to make him a sign).
At one point there were two student-looking guys hanging out of their apartment window basically just making farting sounds on a trombone and cheering everyone on.
Plus, in at least three places as the course went on there were people – on their own or in pairs – in T-Rex costumes. One pair of these hilariously dubious dinosaurs held a sign saying "You look delicious awesome!" and I high-fived another as I ran past. As you do. Obviously.
By mile five the congestion had mostly cleared. Around mile eight or nine the road narrowed to the first real hill of the race, through narrower tree-lined streets and more traditional looking New York brownstone townhouses. The pace dropped as lots of people seemed to struggle but it really wasn't that bad, and the sidewalk was packed with supporters. Incredible noise.
As we reached the top of this hill and turned right, there was a guy with a box of tissues, a sign and a megaphone yelling "Who needs to blow their nose?" which made me laugh. (I did need to blow my nose but I didn't stop.)
By the time we hit mile ten I'd had so much fun I couldn't believe we'd already run that far. I was on the lookout for signs of fatigue, especially in the strong sunshine and having missed so much training, but I felt good.
The course progressed into the third of the five boroughs, Queens, which was a special place for me because it was where Paul Simon, one of my musical heroes, grew up. The mind-boggling support continued. There were more bands, DJs, kids wanting high-fives, and sidewalks densely packed with cheering, screaming people. Impossible not to draw energy from them and be carried onwards by the noise.
The halfway point occurred as the route took us up the Pulaski Bridge – again only an incline, but the sun was bouncing back on us from the concrete and some people were starting to walk.
Mile fourteen had us running through a wholesale retail and industrial area. The sun continued beating down but I still felt good.
The next major point was the dreaded Queensboro bridge. But like the Verrazano, it's not as bad as people say. Coming at sixteen miles, this one did slow me down though.
The descent off the bridge is one of the most iconic points of the course. There are no supporters allowed on the bridge, so they cluster at the exit onto 1st Avenue where the course loops back round on itself. Running into the wall of noise they generate is the stuff of running legend. There were people screaming – actually screaming, literally screaming – support at us. Just incredible.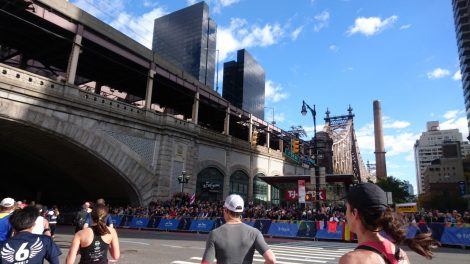 Then we were back out into the spectacular concrete canyons of Manhattan. There was a slight descent for about a mile, which was lovely and I felt like I was flying
The route then to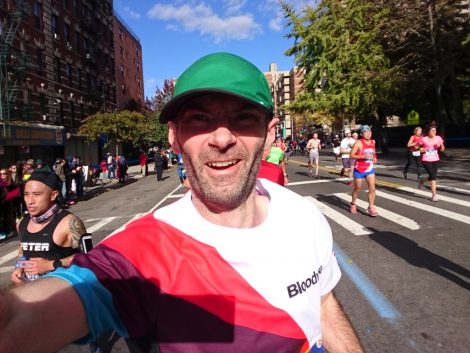 ok us up into the Bronx. I hit the Willis Bridge at twenty miles still feeling good, and made a conscious decision to up my pace slightly. The last few miles down the east side of Central Park were a seemingly never-ending steep incline for a mile and a half until we finally cut off into the park itself. Really tough going.
Back into Central Park and freed of the incline, I was flying again. With only a couple of miles to go, no longer a huge distance for my piriformis to have to hold up, I pushed hard and put in my two fastest miles of the race.
And before I knew it we broke out of the park briefly onto 59th Street, then rounded Columbus Circle and I was onto the famous finishing straight. People talk about the uphill finish at New York but I was feeling so good, and had enjoyed myself so much, that I didn't notice. I crossed the finish line in 03:41:19 with a big smile on my face.
Because I'd run it nice and easy I'd never felt better after a marathon. There was elation, obviously, but it had just been such a fun run and I felt so comfortable, unlike a lot of people around me who'd clearly busted themselves, that I felt I could happily do it all again.