Lesley Pymm reports:  The second race in the Winter Fell Race Series was, as usual, the Wrecker.  Well named race!  I got there early as parking is always a bit of a problem there and it is a long way from Race HQ to the start.  Managed to park near the hotel, so further to go to the start, but handy for after the presentations.  I had to make some amendments to my map as the route had changed again this year – so no real comparisons with previous times.  Although they insist on full kit, including map & compass, it is a very well marked and marshaled race.  
At about 10.30, I started to jog to the start – it starts at 11.00.  As I was going up the hill, I passed some marshals on their way up and overheard on of them saying that she hadn't expected to be exhausted as a marshal.  For many of them there was no alternative to a long walk on the Wrekin, so it is appreciated.
After the briefing, we were counted over the stile leading to the start – so they knew how many were there.  Then we were off.  The first mile or so is all uphill and then it seemed to ease off a bit.  Then we were climbing again and got to the top.  There was  a run along the ridge which was longer than I remembered and then we were heading towards the bit that I really find so   difficult.  It was down the scree.  I was really pleased that I managed to stay upright this year – more because the ground was less slippery than before than any improvement in my style.
Down onto the track just up from Forest Glen and then I was running back uphill again.  There was a large group of ramblers there and they stood aside so that we could pass by.  We turned up the goat path and asked the walkers to join us, but they declined.  I understand that the front runners do run on this section, I just manage to jog the first bit and then haul myself up the rest.  I did pass someone (but they came back again later on the downhills).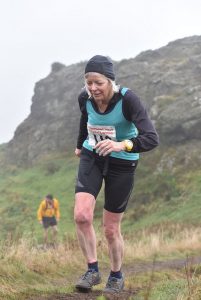 Eventually I got to the top again and turned to run along the ridge.  It was misty up there so no real chance to admire the views.  After a while, I was directed off the ridge and onto a slippery, narrow downhill path.  I found this very difficult and was overtaken by the person I had passed on the uphill.
This was the new bit that I had not done before, and instead of going around the contour and then coming back up and along the ridge again, we carried on around the contour for a lot longer.  Eventually there was a steep climb and we were back up at the trig on the top.  I passed the others there.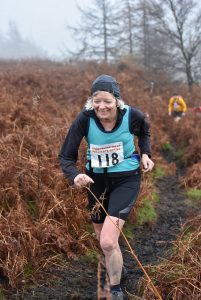 A shorter run on the ridge and then down again.  Easy running at first, but then there was a difficult bit. This was not helped by meeting the group of ramblers again – once again they managed to stand out of the way. Of course, the people I had passed on the uphill came past me again.  Soon I was on the track that led to the switchbacks and then on to the finish.  I was last, but going OK and enjoying it.  I noticed a smaller group of walkers sitting on a fallen tree to have their lunch.  One of them, clutching a mobile phone, called out 'Excuse me' to me.  I could see that he expect me to take photos of them!!  I just called out 'I'm sorry, I'm racing', and kept going.  I heard them asking the back marker to help them.  They apparently said: 'It won't take you long'.  She did stop and told them that as she wasn't racing she would, but that she would not have stopped otherwise.
I took about two minutes longer than last year, but it seems that everyone did owing to the different course.  I was last, but first W60 – so came away with a bottle of wine.  A good morning doing a great run that was just under 8 miles and about 2,400′ climb.  Interesting that it is about twice as much climb as the Snowdonia Marathon that Simon was writing about recently in about 1/3 of the distance!