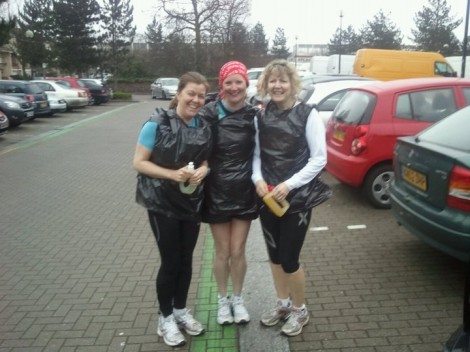 Lesley Proctor reports: After our individual successes at the Dublin Marathon, our elation lasted for about a week and then the post marathon lethargy set in. We both needed a new focus.
Maria wasn't going to run another marathon and I had entered the New York ballot so wouldn't know anything until April. We decided on a half marathon and heard that Milton Keynes was flat. So off we went again with our tried and tested half marathon training plan.
We stuck to it religiously until Maria got Wind blast! (see her for further details). I carried on alone for two weeks (this was tough) until Maria was back on track. The fateful day of the race was soon upon us and in discussion, decided that we would do our best but not put too much pressure on ourselves, as it was now only a training run in readiness for the Stratford marathon on May 8th (where did that come from?).
Kathryn Forsyth Doudican was looking for a half too, so she joined us. Maria's husband was due to be running it too but he was injured so very kindly became our chauffeur and supporter! As we arrived it was still raining so all wearing our bin bags we made our way to the start line. We started at 10.25am and within a couple of minutes I'd lost Maria and Kathryn so i got my head down and thought about how heavy my legs were feeling.
The first 3 miles were tough but gradually i warmed into it and before I knew where i was i was at 7 miles and decided to treat myself to some music. This always gives me a boost. I glimpsed Kathryn in the distance at 8 miles and tried to keep her in sight but failed miserably, so decided to take a gel at 9 miles to cheer myself up! (not sure whether it made a difference but certainly created a distraction!).
There were a few inclines, especially when running up out of underpasses, of which there were many and the finish was a real uphill struggle. I think i startled a few people shouting at myself to 'keep moving' and 'do better'! I crossed the line at 1.56.45 gun time which turned out to be 1.55.57 chip time. Another PB! I was really pleased. Maria and Kathryn both got PB's too.
Maria 1.51.57 and Kathryn 1.53.41. and by the end of the race the sun was shining too so a good day all round .It was well organised, well marshalled and plenty of support around the route. I was pleasantly surprised by some of the picturesque areas we ran through too! We received a medal and a goodie bag and felt great once it was over. I would recommend this race to others looking for a fairly flat road/tarmac half marathon. Now on to the tried and tested marathon training plan – 15 miles on Saturday. Yipee!! Well done to Kathryn Holliday too!
Full results (PDF).