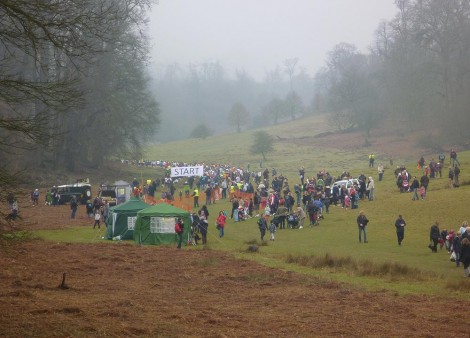 Stuart Mugridge reports: Hello. I'm new to Bournville Harriers and fairly new to running. I used to do a bit of orienteering when I was a student and I did cycle racing fairly regularly until about ten years ago.
Moving to Birmingham six years ago and having children I found it less and less easy to get out on my bike and I was missing the exercise so I started running a bit two years ago and did the University 5k in 2009.
This winter I have tried to keep at it and get out once a week and have slowly built up to running 10k with the intention of entering a few races. I'm not sure I could (or want to) run any further… I did wonder about a half marathon but I'm happy at 10k. In fact as a cyclist I sometimes find myself unsure what to do with my arms when I run!
Anyway, last weekend I combined a trip to see my mother in Kent with an opportunity to run the Knole Park 10k. I had been a bit unwell in the week before and had missed my weekly run and only decided to do the race the day before.
It was a misty morning with a cool breeze but warm enough for me to run in shorts. The course was two 5k laps (50 % grass and 50% gravel drive) with about 300 feet of climbing in the first third of each lap – a tough start!
I started a bit far back and had to make up quite a bit of time in the first kilometre until I seemed to reach my natural limit and settled into something of a rhythm. After the climbing things remained steady until I approached the end of lap one (and my family cheering me on). It was then a quick drop down a steepish slope before lap two and the climbing again.
As an inexperienced runner I'm not great at pacing myself – I just run. So it felt much harder this time and I began to lose a few places but managed to go ok up the steeper bit of hill before losing a few more places on the level section until I was willing myself towards the last kilometre and the two hundred metre count downs which seemed to go on forever.
My family spurred me on down the descent and the last few hundred metres of level ground to the finish and a chip time of 47m 40s. The gun time was 48m 02s so I had clearly taken a while to get out of the gate! My time gave me 110th place out of 505 finishers so I wasn't disappointed, particularly when I heard that it isn't the quickest of courses and the odd bit of mud had made it slower still. It was a well-organised race in a lovely spot so if you ever find yourselves in Kent in mid-March keep it in mind.
I look forward to meeting some of you at races in the future where I will be looking to improve on my pb.
Full results (PDF)