Paul Thompson ran for England in the Masters International at Glasgow in the M35 category in as he described 'the wettest, muddiest, and windiest cross country race of his life.'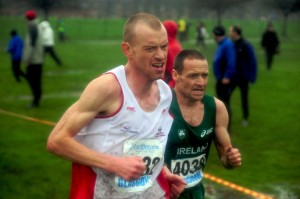 Despite the conditions Paul ran well and won a bronze medal with the England team. Congratulations to Paul on this fine achievement.
see results at  http://www.scottishathletics.org.uk/index.php?p=80&itemType=fixtures&itemId=14230
Barrie Roberts was also at the event selected as a reserve for the M65 Welsh team. Barrie was not called upon to race – just as well considering the conditions – but again congratulations to him for being part of the Welsh squad.