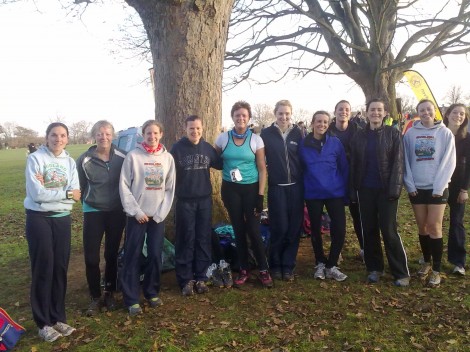 Fiona Heath-Brown reports: Due to a late change of venue from Princethorpe in Rugby, the BvH ladies had to make a long trip over to Abington Park in Northampton for the second league race of the cross-country season.
Unfortunately three of the ladies had to pull out with late notice due to injury and illnesses, but we still had an 11-lady team out in force.
We arrived at the Northampton School for Boys, which was a rather grand old building. Feeling slightly out of place in tracksuits and trainers (and even wellies in Sarah's case!), we joined other groups of runners wandering around the entrance hall looking slightly lost – only to be told that we were interrupting year 6 entrance examinations and that we were definitely in the wrong place! So off we were sent to the pavilion – a short walk away behind the school.
We arrived to find more confused runners, until finally an announcement was made that only the men were registering there, and actually we had to go straight to the park (another mile walk away) to register there!!
SO…… we finally made it to the park, claimed a 'BvH tree' for our belongings and even had time for a quick warm-up despite all the delays!!
The course was described on the information sheet as 'fast undulating parkland', and sure enough the majority of it was fairly flat but with a few 'ups and downs'. We set off at quite a fair pace, with the first of three laps being a shorter one. The first shoe-lace issue of the day came for Marianne, who had to stop quickly to re-tie. This must have been the only time I have ever overtaken her in a race… but it didn't take long for her to recover and charge past me again!
The second lap was a more steady pace, with the speed picking up again for the final lap. It was obviously not a good day for shoe-laces as Linda's came undone in the final stages of the race… but with the finish in sight she ploughed on regardless leading the BvH team home.
Special thanks must go to Laura's dad, Stuart – the sole BvH supporter cheering each and every one of us on!! A couple of lads in tracksuits shouted, "go on Bournville!" as I ran past at one point, although I'm not sure whether they were other runners or 'locals' taking the mickey!!
To sum up, it was another lovely day out with the BvH ladies despite the hick-ups at the start. Well done to everyone for some great running times, thanks to all the drivers, and special thanks as usual to Sarah for organising us all and providing the yummy goody bags.
Results to follow but positions were:
Seniors –
Linda Howell 23rd
Marianne Hensman 48th
Kathryn Holliday 54th
Laura Leslie 77th
Fiona Heath-Brown 84th
Sarah Rock 91st
Rachel Ward 143rd
Masters –
Julie Delahaye-Slater 96th
Michaela Thompson 112th
Lesley Pymm 150th
Lesley Byrne 173rd