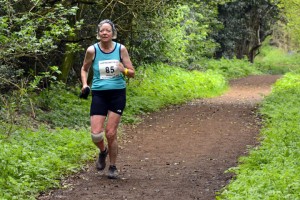 Lesley Pymm reports:  I was supposed to be leading a ride in a cycling event on Sunday – but the organisation was not good and I ended up 'throwing my dolly out' and asking them to let me off leading.  I had, therefore, a free Sunday with very short notice.  I had a quick look on Runners World website and saw that the Aldbury XC Challenge was on.  I hadn't done this since 2007.  I used to run it regularly and stay at my sister's – my nephew and niece used to come along to watch when they were both small (Chris has just graduated and Abbie is up to her neck in dissertation at the moment).  Anyway, it seemed like a good time to revisit the run and pop in to see the family – my sister didn't think I could stand the stress of the dissertation for very long!
Aldbury is a small village near Tring.  It is near Ashridge – a lovely area owned by the National Trust.  The race HQ is on the playing fields and there is a pavillion – not much else!  They assured me that there were plenty of places as I had missed the date for postal entries – no on-line option, so I showed up on what turned out to be a pretty chilly morning for spectating but great for running.
The race started on the playing field and we ran out onto the road briefly before turning and starting the climb up onto the ridge.  Because of the chalk, it was a little slippery going up.  The steep climb was not as long as I remembered and soon I was on a wider path, still climbing gently.  We passed the Bridgnorth Monument where there were quite a few people hanging about and carried on along the ridge.  The bluebells were out and putting on a glorious show.
Towards the end of the path there was an area where it widened out and a car was coming towards me – no idea why.  There were a couple of walkers ahead and they stepped over to the side to let the car through.  I ran up behind them and was just about to overtake the two walkers after the car had come through when the woman at the back suddenly stuck her walking stick out, nearly having me over!  I don't think she was aware that I was there – she was after I had let out an 'Oooomph' in her right ear!  After apologies on both sides, I carried on.
The route started to go downhill now and it was good running.  At the end of a field edge I turned left and ran along the Ridgeway Long Distance Path for a while.  There was a road crossing and through a small car park and then onto a section that I remembered really enjoying in the past.  It was uphill for and then went alongside the edge of an old quarry, still climbing.  There were really good views of the surrounding countryside.  The route was a bit more technical here and I had to watch where I was putting my feet.  Then there is a lovely run through woodland with the smell of wild garlic, downhill and a crossing of the golf course.
I seemed to be gaining on the three young women ahead of me and was trying to close the gap.  I turned onto a path that I remembered had been very muddy in the past.  This year it was bone dry.  Strangely, I couldn't see the other runners ahead.  After a while I saw Mike, who took a photo, and then I ran into the finish area across the playing field again.
The run is officially 5.3 miles and I took 1.00.39 – I was a little disappointed as I had previously done it in about 53 minutes, but that was 8 years ago and I have been having some knee problems lately, so I was pleased to have completed it pain free.  The three young women told me that they had suddenly realised that they could do it in under the hour, so they went for it!   They had never beaten the hour before.
The race memento is a mug and there are sandwiches and coffee included in the entry fee.  I was really pleased I ran it and I did enjoy it.