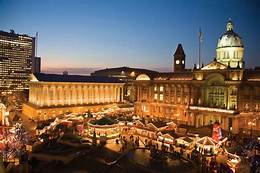 Social Secretary Rachel Partridge has a few more events lined up for you before the end of 2018…
Birmingham Christmas Market – Friday November 30th, 7pm and Saturday 15th December, 3pm. Meet by the Carousel.
BvH Christmas Party – if you haven't already done so, join us at Rowheath Pavilion from 7:30pm on 7th December for a healthy Indian style seasonal dinner and Disco. Wear your Christmas jumper or t-shirt – the best and worst festive outfits will win a prize! Limited tickets remaining DON'T MISS OUT!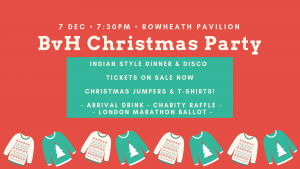 – Complimentary drink on arrival
– Secret Santa Charity Raffle in aid of HOPE, to donate a prize contact Rachel for details
– London Marathon Ballot Draw
Family and guests of BvH members welcome! There is a small nominal charge of £1 each for up to two children under 12 attending with a club member; (the safety and entertainment of any under 18s attending is the responsibility of their accompanying adult).
For those of you that already have your 2019 diary, please make a note that we're arranging some further events on the following dates which will all be confirmed shortly: Thursday 10th January, Thursday 17th January, Thursday 31st January, Friday 1st February, Thursday 14th February.  For those that like to plan very far in advance the BvH Awards Night will be held on Friday 1st March.