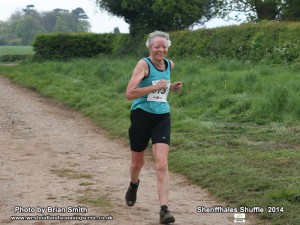 Lesley Pymm reports:  I had not done this event for a few years, but as I was doing a long bike ride on Bank Holiday Monday I thought I had better get something in the diary for the weekend.  I remembered that I had enjoyed this event in the past, but had found the beginning hard.  It started over 'the gallops' (where horses train).
I was there early and chatted to friends over coffee.  It was then that I discovered that they had changed the start and that the gallops were no longer in the picture.  I was a bit disappointed, but everyone else seemed happy!  This race is part of a 4 event series promoted by Newport and District AC but I am not able to do the series.  I bumped into Anne, from NDAC, who I had finished close to at the Sexarathon last year – it was the first time we had actually spoken.  I told her I was not doing the series and that I was feeling pretty stiff, so she would probably win the category today, anyway.
Off we went – starting downhill on road – my legs did feel very stiff and Anne got away.  There was some distance between us and I just settled into running and enjoying it; she was going well!  We turned off the road and ran alongside the gallops before going off onto some uneaven fields.  Anne was there in the distance, but there were a few between us.  It was warm and hard going as I trundled along.
We ran through Lilleshall College and then along more trails.  I realised that I was gaining on Anne.  I just settled in there and remained behind her.  Then there was a longish slog uphill and she seemed to have slowed a bit, whilst I was feeling good.  I had to either remain where I was and try to take her at the end, or go now and try to hold the lead!  I passed her on the hill, with a brief chat, fully expecting her to come with me.
At the top of the hill we then ran out onto the road, fairly good downhill running, so I went for it.  I could hear other runners behind me and was overtaken by a couple of younger women from Wrekin RR.  I tried to go with them and to keep close.
Then it was off the road and onto some farm tracks that took us to the finish.  At the end of the track it was a quick left and then  a right into the finish.  I was expecting Anne to pass me at any point then, but she didn't!  I waited at the end and she came in and we hugged and congratulated each other.  I had won the W60 category, but her series position is safe!  I do love the fact that in running we can make friends whilst having healthy competition against each other!
It was a good run, complete with children's races, BBQ and cakes.