"It's a run, but is it a breeze?" Marianne Hensman records a new PB in Stratford-upon-Avon.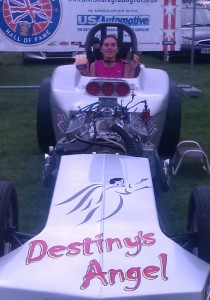 Marianne writes: It's saturday morning 9.30.  Paul and I have got up at 7am taken two trains, borrowed a car and come to an airfield in the middle of Warwickshire, there is a portakabin called Kenny's bar serving breakfast, and the sounds of 1990's pop tunes blasting out over the loudspeakers, and no one to be seen, for a mile or so but some drag racing cars.  It must be the Runbreeze Half marathon 2011!  Last chance for a quiet PB before the year is out……
The race was not only a half marathon, but also a 5k, 10k and skate race on the airfield.  11am and we were off – 4 laps, and in many ways it felt more like a reps session than a race, as there were other runners all along the course, not too many spectators though, but excellent marshalling.
Motivation was provided by the race commentator – normally accustomed to commenting on drag races, but who did a very professional job – and of course the 90's mix tape – remember "2 times" by Ann Lee, I now know all the words. Paul had kindly volunteered to be my pacer to 10k, which he did slowing slightly after the second lap.  After that it was up to me, and I was lucky enough to hang in with a group of men to help keep the wind off, and managed to keep the pace going.  And before I knew it the finishing straight, and at last a new PB – 1 hour 29 minutes and 34 seconds.  Paul was just behind me in a new PB of his own 1 hour 31 and 42 seconds.  
Full results can be found here: http://www.stuweb.co.uk/default.asp?a=2&e=1077
I was second lady and won some energy drinks – with Yerba mate.  The first two men came away with a cuddly rabbit and a wall clock. I even got to sit in a racing car at the end.  Well, definitely no more half marathons for the foreseeable future now – but a great one to end on…..