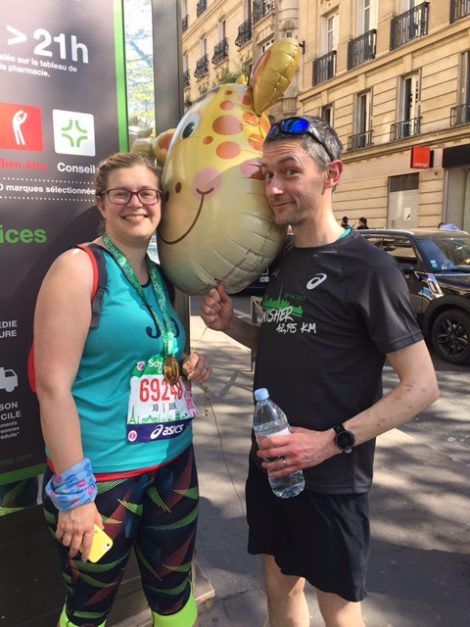 Simeon Whiting Reports: What's not to like? A romantic weekend away, without children, in the most beautiful city in the world. Except my brother was coming too. So was Jo's sister. And Jo's sister's boyfriend. And there was the small matter of a marathon to contend with. Still. The Paris Marathon was, by all accounts, fast, flat and extremely scenic, so it looked ideal for Jo's marathon debut and for a crack at the elusive 3:30 barrier for me.
We arrived at the Gare du Nord on Friday afternoon, dropped our bags at our apartment (gorgeous little Air BnB place) and headed for the expo. The expo was gratifyingly quiet and the volunteers were helpful and very patient with my rusty, schoolboy French, so we were out of the doors with race bibs and goodie bags in just a few minutes. Now for some dinner.
Saturday held the promise of a breakfast run – a gentle 5K trot through the prettiest parts of town, with croissants, pains-au-chocolat, coffee and fruit at the finish. What a wonderful idea. London, take note. The rest of the day involved a little sightseeing (rude not to), the consumption of copious volumes of pasta and (in my case) fretting about every last detail of the following day.
Sunday morning dawned, as forecast, with glorious sunshine. After bolting down a bowl of porridge and glugging a couple of glasses of water, I marched off to catch the Metro. 20 minutes later, I emerged at the Arc de Triomphe. A bite of malt loaf, a final swig of water and it was time to drop my bag (beautifully simple system here – again, take note, London) and jog to the start. Here was my only gripe with the whole enterprise. In order for the roughly 8,000 people in my starting corral to get into position, we had to pass through a single, two-foot-wide gap in the barriers, policed by two harassed-looking race volunteers. In a race characterised by cheerful efficiency, this was a needless bun fight.
But once we were lined up, efficiency resumed. I'd heard horror stories of the start in Paris – being crammed in so tightly as to make it impossible to raise your hands, runners peeing into their water bottles or onto each other – but there was none of that. There was, however, one of those annoying, over-enthusiastic, everyone-put-your-hands-in-the-air, enforced warm-ups. Fortunately it was brief. My wave was let loose on the dot of 8:55 and it took me just a few seconds to cross the start line.
I'd been assured the route was stunning and, goodness me, Paris, you did not disappoint. The first mile was a downhill stampede along the Champs-Elysees and round the Place de la Concorde: the kind of start to lift the spirits and quicken the pace. I was cautious about the pace, though. I always go off too fast, which probably accounts for my usual problems in the latter stages of marathons. Today, I was determined to pace myself. 7:59 for the first mile. Perfect. I cruised past the Tuileries, taking in the surroundings and trying to settle into a rhythm. 7:53 for mile two. Sweet. I picked up the pace a little. At mile three, I saw my crew for the first time, toting a giraffe-shaped balloon to make them easier to spot. This all felt good. The crowds were vocal, the sun was pleasantly warm and I was ticking off miles in 7:50 or better.
Around six miles in, the route took us through the Bois de Vincennes, which was like running through Cannon Hill Park in the middle of a big city marathon. Just lovely. We emerged back into town and followed the Seine on the long plod towards the finish, but with some glorious sights on the way. Rounding the Place de la Bastille at 14 miles, there was that perky giraffe again. I still felt positive but it was now starting to get hot. I was necking nearly entire bottles of water at the drink stations, and mightily glad of the frequent buckets of water to splash on my face and neck. It looked ominous for Jo, who started nearly an hour after me and was likely to be spending a lot longer in the heat than I was. Nothing I could do about that, though. I pressed on.
Hang on. Was that the 18 mile mark? Couldn't be. Surely I should be dying by this point, but I was still feeling uncannily fresh and miling in less than eight minutes. The crowds were still cheering enthusiastically, too, occasionally leaning out into the road, Tour de France style. And here was the problem. I'd started perhaps one pen further back than I really should have and had therefore spent the whole race weaving in and out to overtake other runners. This was starting to get tiring and, much as I appreciated all the people bellowing 'ALLEZ!' at me, I wasn't enjoying having to squeeze past spectators to keep moving forward.
But the sights just kept coming. I couldn't help but smile as the Eiffel Tower hove into view and then it was a mere couple of miles before the route wound through the Bois de Boulogne, with only two parkruns between me and the finish. It was now that my body started to rebel. My calves felt like rocks, my mind was becoming hazy and I was getting thirsty. The sight of a few of my colleagues lying prone on stretchers at the side of the road did nothing to perk me up. From somewhere, I managed a burst of speed and clocked eight miles each for miles 23 and 24, before the demons resurfaced. The final two miles were a slog. Dragging myself into Avenue Foch for the final 200m, I realised 3:30 was going to be just beyond me. Surprisingly, as I stumbled over the finish line and began sucking greedily on a bottle of water, my overriding feeling was of satisfaction. I'd missed my target by 44 frustrating seconds, but I'd knocked 13 minutes off my PB, executed my race plan near perfectly and thoroughly enjoyed the day. Maybe I'd have got under 3:30 if it hadn't been quite so hot or if I hadn't spent literally the whole race overtaking. Maybe. Maybe not. For now, I was just enjoying the moment. And I was off to find a steak so rare, a good vet would have it back on its feet.
Fortified by steak and chips, I returned to the finish to cheer Jo as she rounded the final bend. By now, the crowds were becoming sparse and the mercury was touching 26 degrees – challenging conditions, to say the least – but Jo was showing outstanding fortitude and still running with a smile on her face. It wasn't long before I saw her surge past me on the way to the finish in 5:57:29. She was delighted, as well she should be.
And would we recommend running Paris? Probably. It was a fantastic experience. But there's significantly less support here than in London, especially if you're not super fast. So it's probably worth running with a friend or buddying up on the route.