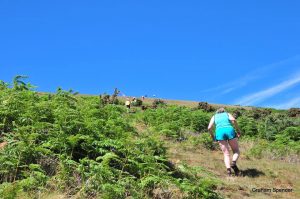 Lesley Pymm reports:  Well it seemed like a good idea at the time.  I had decided to give this one a go.  It is attached to a village show, so something for long suffering supporter to do while I'm out there 'enjoying myself'.  The show ended up being a slightly reduced event in the village hall rather than on fields as usual, but there was still stuff to do and see.  I watched the video of the climb up to the hill fort the night before – it looked tough.  I was actually pretty anxious before I went, but kept telling myself it was less than two miles, what could possibly go wrong?
As we approached MIddletown, I could see the hill – well you couldn't miss it.  I registered (free event) and looked at the results from last year.  There was only one woman last year – there were 4 this year.  Last year there were only 16 entrants but this year there were 22 – what a massive % increase.  I did a bit of a warm up around the block and then we all headed off to the start and ran up the lower slopes of the hill.  I was exhausted on the warm up.
We all congregated at the start and there was a photo taken of the entire field (in a line) and then we were off.  I was immediately dropped as they all shot off up the hill, but did start to gain on the back of the field as we went up.  I got to the top and then had to run over to where the arrow was pointing down, and it didn't lie – it was a vertical drop.  This is where they all really got away from me.  I had a horrendous descent.  It was a very narrow path and the overgrowth had been cleared, but was still there – so I kept getting tangled in it.  My knees were killing me and I wished I'd taken some anti-inflammatories before I started.  I did think about stopping and turning back, but went back to the mantra that it was less than two miles etc.
I thought the downhill would never end; every time I thought I was nearly there there was a slight bend in the track and then it was a bit more downhill.  Eventually I got to the bottom and found the marshal who was almost asleep in the sun.  He sent me along a few yards and then I had to start to climb back up again.  I don't mind uphills, so that was fine.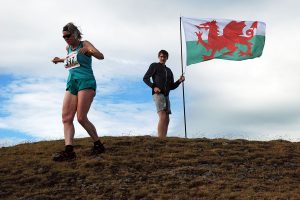 It was only a short uphill and then I was picking up a path around the base of Middletown Hill.  It was a bit technical, but OK.  Eventually I turned and was climbing back up to the top again.  Somewhere in the distance I could see two figures, one of whom turned out to be Mike.  I headed towards them and at long last I reached the summit again and passed the Welsh flag for the second and last time before the final descent.  Mike was coming down as well and I had to ask him to slow down as it was very demoralizing having him going faster than me down the hill!  The woman who had come first was coming back up the hill with four of her many rescue dogs and Poppy wanted to play – fortunately Mike distracted her as I got on with the job in hand.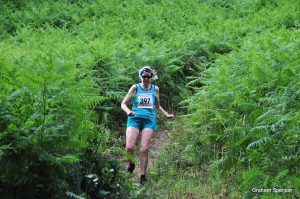 I think the only bit I really ran properly was the last downhill over the field to the finish.  1.8 miles in something like 1hour 7 minutes.  This was the hardest I had ever done.  I will not be going back to do the Middletown Hill Race later in the year.  That is an evening race and I would not be back before dark!  I would recommend it to others in the club who do fell races and who are quicker than me.  It was a great atmosphere and very friendly.
For those who are interested in these things, the Raiders won (i.e. England).  Young Will Kaye who does well in the Shropshire Series won it for England with a very strong finish against Dom Jones from Wales.  Will and Dom were closely followed by the Starling brothers from England so that was the team sorted.  Will came away with a massive bottle of bubbly and let the other lads have all the cans of lager for the team prize! My W50 (yes, you read that correctly 50!) prize was a bottle of ginger beer.  Not bad for a free event.
I hope to go back next year – fully dosed up to try to protect the knees.  Provisional date is 30 June and they hope to have a big show again in the fields, so with all the events.