Liverpool Rock and Roll Marathon -25th May 2014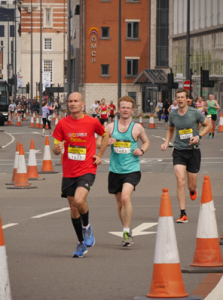 Eighteen months ago, when I crossed the line in my first marathon in Preston I swore (loudly and to anyone who would listen) that I wouldn't do another one. They hurt, the training essentially takes over your life and there's a very real chance of something going wrong leaving you missing your target and slogging around a very long course dejectedly. However either time is a great healer, or I'm a liar, and in January I set a New Year's resolution to have another bash at one to try and improve my time of 3:18:00.
The training didn't start promisingly – I could barely seem to scrape a long run together without stopping and developed aches and twinges in all sorts of places. However, slowly things started to fall into place and by the time I surprised myself with a personal best in the Stratford Half in April I was starting to think that I might be able to push for a decent time.
On the day of the race I arrived in good time to see some of the other BvH runners setting off on the Half Marathon that was starting an hour before mine. Soon I was stood in my assigned start pen (worryingly the first one) and thinking through my race strategy. How quick should I go? Certainly I felt capable of a fast time, but would I still feel that around mile 20? Glancing to the left I saw the 3:15 pace group assembling and in a rare display of bravado I took a few steps forward, resolving that this would be the last time I would see them.
We set off winding through the Pier Head and the city centre. The first mile was far too quick so I tried slowing my pace, but mile two was also faster than I anticipated. Thankfully, by the time we reached Goodison Park at mile four, I'd got things under control – just as Chris Collins passed me in the other direction up with the leading group.  Passing the 10k mark at just over seven minute mile pace, I still felt reasonable so tried to settle into a comfortable rhythm for as long as I could.
We headed back towards the city centre with some substantial downhill sections, and it was a struggle not to get too carried away and keep at the same pace. Thankfully things levelled out as we passed back onto the riverfront and received a cheer from the crowd, including my parents and another large group who appeared to have adopted them! Hearing a load of people shouting your name certainly gives a boost and I soon passed the half-way point.
As the route took us back out of the centre, I was mindful that things would shortly start to hurt so began setting little goals – ten miles to go, two thirds of the race done. This section wound through some the parks so it was difficult to grasp how far you had run. Luckily I latched onto an Irish runner for about six miles, who received a lot of cheering from all the spectators and having some reflected glory really spurred me on!
It was starting to hurt as we left the parks and began the last 10k. It didn't help that the weather forecast that promised some showers for the latter stages of the race instead delivered blazing sunshine so as I started the last section on the promenade along the banks of the Mersey it was getting very warm. This last four miles was very tough – flat and without any shade. Despite being almost entirely straight, and knowing that the finish was somewhere in front, I couldn't see any sign of the Echo Arena that marked the end of the course.
It was here that the psychological aspect of the race really kicked in as the miles began to take their toll and I began to flag. I started to give myself a strong talking to, reminding myself of all the training as I tried for one last push. My Garmin was checked with greater frequency than any other time during the race, but the miles stubbornly refused to tick over. Finally, after what seemed like an age I passed the last mile marker and glanced at my watch. It was showing just under three hours, I knew then that I was on for a great time which gave me enough of a boost for the final leg.
The last mile was probably the hardest bit of running I've ever done, crossing over the Albert Dock I could see the finish line and was relying on the crowd noise to drag me over it. Thankfully everyone's race number had their name printed on them so the constant shouts helped me down what seemed like the longest two hundred yards in the world, and I crossed the line completely exhausted but delighted with my time of 3:05:29.
Whilst I got my breath back I had a congratulatory handshake from the guest starter, Austin Healey and a short chat with Chris Collins before a very slow hobble into the Arena to pick up my things and help myself to some free food (apologies to any other runners who may have missed out but I think I took enough snacks for about three people!). I didn't stay for any of the music, but met up with my parents for a short drive back to their house to collapse in a heap for the rest of the day.
Well, that's my report. Two days on it still hurts and my feet look like something you'd find on the floor of an Abattoir but I don't really care. I was absolutely delighted with my time and achieved exactly what I wanted from the race.  Whether I'll do another one is a question for another day, but for now I'm just glad that I completed this one and that all the training paid off.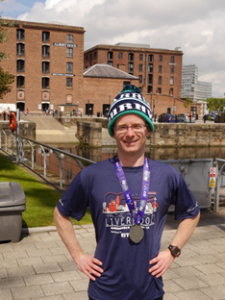 Obligatory photo with BvH Bobble Hat!