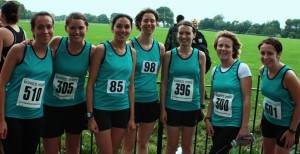 Rachel Ward writes: Here are the teams for Saturday's (25th Sept) road relays, they start at 12 and you will need to be there by 11.30 at the latest, obviously account for your own warming up etc. Each leg will be approximately 15-20 min in length depending on who you are following!
You will need to see Mel James for the numbers on the day as I will be at the JW Ultra, if there are any problems then please see her on the day or let me know beforehand.
Team 1
Leg 1 – Mel James
Leg 2 – Caroline Harlan Marks
Leg 3 – Sara Roberts
Leg 4 – Cat Ricketts

Team 2
Leg 1 – Emily Holden
Leg 2 – Tamara Kennedy
Leg 3 – Michaela Thompson
Leg 4 – Lesley Pymm
Dont forget your pins, and if you want to return the club after for drinks then there will be many of the club members there as this is where the JW Ultra will hold prize giving etc. Thanks everyone and have a good run!!
Ladies NATIONAL Road Relays 16th October
Please let me know if you are interested in joining the team for the national road relays to be held at Sutton Park on Saturday 16th October. It will start at midday again and you will run in teams of 4 each leg being approx 5K. A maximum of 3 teams can be entered.
If you can let me know by Wednesday 29th September if you are interested in running as I have to enter the teams. Please confirm via email to bvhladiesroadrelays@hotmail.co.uk
If anyone has any more questions then please see me at the club or email me.