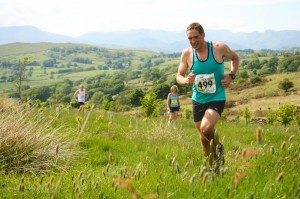 Mike Berry reports from Kendal….
The village green in Staveley, 6 miles from Kendal is the starting point for this friendly and well organised, if a bit expensive, trail race.
The race is started in 2 groups of about 360 runners each, the slower runners going out an hour earlier. Due to a late arrival (thanks Virgin trains) I set out from the back of the second group.
The first 2 miles is steady climb up to about 1000ft on a closed lane, this is followed by a traverse over moorland – thankfully dry – and a brilliant descent back down a loose shale/rocky path to 600ft. The course then runs alongside a steam for a couple of miles before the main ascent up to 1400ft. A mixture of packed trail and grass then takes you to the top of the descent back to the village sited spectacularly in the valley below.
The price of a barely controlled plummet to the bottom is jelly legs on the ½ mile of road back to the start but I have things back together in time for the mandatory lap of the field finish and am very pleased with 19th place in 1hr25.55.
Distance 10.7 miles/Ascent 1253 ft