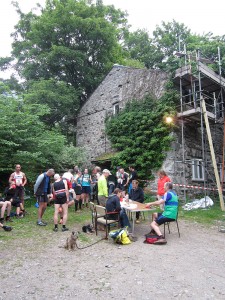 Stuart Mugridge Reports: More painting of the fells teal. I ventured up to Howtown on the shores of Ullswater for the fourth running of the Howtown Fell Race. This is a friendly, well-organised, low-key event advertised as taking in 1,415m of ascent in 21.4km.
I got the train up to Penrith the day before and cycled across to a campsite on the shore of Ullswater. The sun blazed from a clear blue sky (while Brum had heavy rain apparently) and I hoped that it wouldn't be this hot on race day – I equally hoped that the forecast of light rain wasn't quite right. The evening was pleasantly warm but the sky signalled change as I went to bed at 10pm.
I was woken at 4:30 by a cuckoo calling but managed to doze on and off until 7:30 when I decided that I might as well get up and start getting things ready and have some breakfast. The sky was overcast and there was the odd spot of rain and a fitful breeze but I could see the top of the hills behind me so it seemed pretty good conditions for a race.
The event HQ was at Bobbin Mill (that's a mill where they used to make bobbins and now the village hall currently undergoing restoration) in Howtown, just a couple of miles from my campsite. I registered and picked up my number and then changed out of my camping/cycling outfit into fell running one. I'm not used to running with any luggage but the FRA rules stipulate that full waterproofs, hat, gloves, whistle, compass, map and food must be carried. A drink also seemed sensible.
As start time approached there was a short sharp shower and then beautiful summer sunshine. I packed my kit into my waist pack and took a stroll to the start field. A herd of cows watched as I did a bit of a warm-up routine. A brief briefing and we were off! With much friendly 'after youing' we filed across the field, through a gate and over a stile and onto the open hill. The field mostly followed the same path up through the bracken.
From the start it was half an hour of uphill to the first checkpoint on Loadpot Hill so lots of power walking and hands on knees action until the gradient eased and running was possible although by then we were off the path and on tussocky grass.
Through the checkpoint and the course ran roughly south along the line of the High Street Roman road undulating gently upwards along well-defined paths. In fact there wre too many paths and you had to keep your wits about you to not deviate unnecessarily. The sky had clouded up a bit by now but High Raise and Checkpoint 2 was still visible ahead. The race was just over an hour old and I was only 7km into it but was going ok and places had begun to settle. The marshall here looked well wrapped up so it must have been chilly and was handing out jellybeans. Bonus!
We dropped down from High Raise and then climbed up and round above Rampsgill Head crags and then hurtled down a steepish off-piste descent. It was around here that things began to go wrong for me – I started to get pains in my right knee and my energy levels took a dive. As the gradient eased and we joined a path I felt a bit better but was beginning to wonder if breakfast was too long ago and I needed to re-fuel. A mouthful of Haribo for the moment would suffice.
Walkers labouring up the path were generally friendly and waved us past, some just stared at us as if we were mad. The race route here undulates along on a recently renovated path below Rest Dodd and Satura Crags. The sun was coming out again but my energy wasn't and more runners passed me. I was now beginning to feel the need to walk up even short inclines. And it was only half way!
We looped around Angle Tarn and picked our way through the edge of Angletarn Pikes. The jarring of the rocks was causing further knee problems and the following descent off the path and down steep, uneven grass didn't help. In hindsight I should have taken the longer but more even main path that loops round to Boredale Hause. I eventually staggered to the bottom and could see runners ahead labouring up Place Fell.
Place Fell is the second big climb on the route. There is only about 250m of ascent but I was now nearly two hours in with 14km covered. My knee wasn't enjoying up either. So I stop-started my way up whilst scoffing down some flapjack. The gradient eased a little at times but I could not manage to run any of it. It was a really weird sensation that I have never encountered before but no matter how much I told my legs to run they just wouldn't. However, I could still walk very swiftly and strongly – so this would be my tactic.
Just before the top of the climb another runner came past and we exchanged gallows humour and I questioned him about the 'sting in the tail' climb up Hallin Fell. As he topped out on the final crag before the summit plateau he called that I only had a couple more minutes to the summit Checkpoint. When I got up the crag I was disappointed to see the Checkpoint 3 further away than I imagined and across more rocky ground. More knee-jarring.
I joked with the marshalls that they didn't have any jellybeans, paused briefly for a drink and to identify my descent. This followed a faint path down through the knee-jarring rocks of Hart Crag. Eventually the path opened out onto a gentler gradient across grassland. I watched the runners ahead to check what line they picked up for the path down to Boredale.
At the sheepfold unfortunately I backed the wrong horse for me as the runner I followed took me to a steeper off-path downhill. This was my only navigation error of the day but saw me return to a more reliable path and a gentler descent. I felt good here although a few more runners had got past me during my brief detour.
We rattled on down to the dale through a field or two and over a clapper bridge (there is a ford option for those who prefer but I decided I didn't need my feet feeling any heavier than they already were) and up a short track to road. All the time I had Hallin Fell haunting my thoughts so I shovelled in some more Haribo and some strong energy drink and shuffled on, walking anything remotely up. I'd sort of found my place in the field by now but knew that I would suffer on Hallin.
This 'sting in the tail' comes at about 19km. It's only about 160m of climbing but it was pretty steep and unrelenting and I had been going for 2:50. More stop starting up the grassy slopes urged on by fellow runners coming back down (oh the jealousy!) and dog walkers out for a pleasant stroll. I reached the summit in just over three hours and wondered if I might still make my randomly imagined finish time of around three and a quarter hours.
I was still taking any descent gingerly but was able to move more rapidly at times and was glad when I reached the path that cuts back and forth across the zig-zag road up the Hause. Another runner came hurtling down through the bracken up to myt right and managed to avoid the slight stop/start nature of the road crossings. At the bottom I crossed the cattle grid and fell in beside a Leeds runner who I had been near to since Angle Tarn. He joked that he was doing his finishing sprint I said that that was ok I was doing mine too but I may have to walk soon. We were both moving very slowly as if glued to the tarmac. I apologised and stopped to walk for a bit. When I realised that the finish was in site I started to run again and almost managed a sprint up the rough track to Bobbin Mill.
A friendly gathering greeted every runner home as the finish line crew sat at a table in the yard and all present clapped each runner. A wonderful table full of jugs of squash and homemade cakes was a sight for sore knees. My Garmin recorded a distance of 21.95km but with 'only' 1,263m of climbing. Did I miss a hill out?
Chris Steele (Borrowdale) won the race with an amazing course record of 1:59:37! First lady was home in 3:01:and some seconds. I crossed the finish line in a modest 3:15:08 for 38th place out of about 54 finishers. After some cake-eating and tea-drinking recovery I gathered my gear together to cycle back to Penrith for the train home.
With more adequate preparation I could definitely get under three hours (in similar conditions)…I just need to start training now. I don't think the mighty hill of Umberslade Road is any comparison for the Lakeland Fells. It was definitely the hardest race I had ever done but also the most enjoyable…see you in Howtown next year (?).
A big 'thank you' to Kim Collison and his team of marshalls and helpers for such a warm event.
PS It turns out there was quite a bit of teal out on the course as local club Helm Hill sport teal vests. Out of the corner of my eye I did think that a coach trip from Brum had joined in the fun…but on closer inspection I saw the club name on the front and black bands round the middle.