BvH regular racer, Lesley Pymm reports from Coombe Abbey, near Coventry…
Lesley writes: I ran this event for the first time last year and really enjoyed it.  This year it was about 13 degrees warmer than last year – but still only 6.5 C.  There was fog and this never cleared, so it never warmed up. 
This is a complicated course that takes the runners round and about the grounds of Coombe Abbey near Coventry.  There is a small loop through fields and then we went through the start/finish area again and out into some woods.  This was really good running.  At about 4 miles there was a water feature.  I did not remember this from last year and I have looked back at my report from last year to see if I mentioned it.  I didn't, so assume that they decided it was not safe at -7 C to go through it.  This year we got wet. It was great.  Then it was through the start/finish area again and out onto a longer loop which took in the bomb craters. 
I was running well, but by the fifth bomb crater I did start to feel a bit washed out.  Anyway, I got through them and then finished the course. 
Apart from the temperature, the main difference from last year was the fog.  Last year had been glorious sunshine and blue sky – this year we couldn't see very far ahead. We were running through the fields and could only see what was just ahead.  It was difficult to estimate far there was to go.  Suddenly I was able to hear the road and so I knew that I must be getting close to the top of the field where we turn and then head for the finishing straight.
Everyone was awarded a long sleeved T shirt, a bottle of water and some lovely homemade soup.  This is a really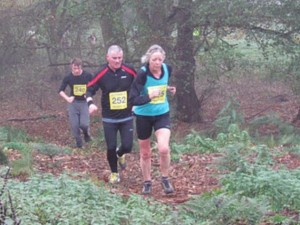 good run, value for money and well organised.  I think I was the only BvH member there this year.