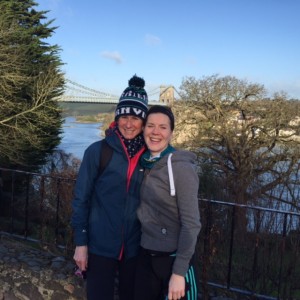 To test myself after over 16 weeks of relentless training I (sociably) tried to pick a road half marathon that no other Harriers would be at. You know what its like though – another Tealster always pops up, and this time it was Stacey 'Only Connect' Marston.
Also known as 'The Island Race' it was billed as being the UKs most beautiful half. It is now in it's 4th year and had sold out with 1750 runners competing. The course had been described as undulating but fast, so I thought it might be comparable to the Birmingham Half and be a good chance to get a decent time. It was sponsored by Welsh crisp maker Jones O Gymru who uses Welsh potatoes and Anglesey sea salt – so plenty of complimentary bags of crisps lying about too.
Stacey is mid-marathon training, and with an Aunt who lives in Rhyl, she had picked it to make a weekend away – and maybe treat herself to a dip at Rhyl Sun Centre for old times sake… The night before the race there were gale force winds and torrential rain. I'm sure Stacey was blissfully unaware of this over at her Aunt's cosy house, but I was getting a bit jumpy while eating my 6oz steak and eggs in a portacabin masquerading as a Little Chef next to my Travelodge. Thankfully the next morning is was bright and sunny, but still super windy and cold and we were excited but nervous. Stacey's spirits had been lifted by listening to Only Men Aloud's version of Cwm Rhondda in the car on the way over.
The race starts on the Menai Bridge, a rather grand looking suspension bridge designed by Thomas Telford that links Anglesey to mainland Wales.
Organisation was good and everyone seemed to be in a jolly mood. The Welsh were bigging up the fact that it was also St David's Day, and a handful of brave runners were dressed as daffodils or draped in the Welsh flag – just not enough portable loos (are there ever?). We stripped off at the last minute and threw our bags into the back of a Welshman's truck to be taken to the finish. The start of the race took us quickly across the windy bridge and onto Anglesey. We weaved our way through the pretty town of Menai and up and down some fairly steep and narrow streets. It was a good opportunity to be a bit nippy on the corners and make progress in order to leave the tutus and ipod fiddlers behind.  The route then continued on a fairly straight road that ran along the coast, parallel to the Menai Strait. Sheltered from the wind, it was flanked by trees and now the sun was out you got a glittery dappled reflection from the sunshine on the water.  Occasionally on the other side of the road you passed icy looking fast flowing waterfalls. It had snowed overnight and through the trees, back on the mainland, you got tantalising glimpses of the imposing mountains of Snowdonia, capped in white, in the distance. All very inspiring, especially as you passed the Menai Bridge Brass Band playing Chariots of Fire.
As the field thinned out and there were less distractions, I turned my attention to the other women in front of me. What goes on stays on, right? I slowly but surely used them to keep my pace up and picked them off one by one. At about the 6 mile mark, and just after a very picturesque village called Beaumaris with a very fancy looking castle – also a World Heritage Site….
(For some strange reason, when I'm running, all my senses seem to be heightened and I have the ability to read signs, notice caterpillars on the road, remember distinctive smells of seasonal flowers in hedgerows and even spot a bargain that I 'might go back for' in an outdoor shop window)
… we headed inland to complete a loop that would take us back round onto the same road we had come out on. There were some challenging 'undulations' on this section, and it took serious effort to keep those women in sight. We crossed a 10k timing mat, and I was pleased to see I had knocked a sizable chunk off my 10K PB. If only I could sustain this pace…
At around 7 miles a small boy on a bike shouted that I was 7th lady. Very encouraging, as I had set myself a target of finishing within the top 20. The route was now right on the waters edge and we were running back towards the start. Although it didn't feel like we had a tail wind on the way out, as soon as we turned a corner we were buffeted by really strong winds. So strong that when you lifted one foot up it was blown out from under you, and you looked like you were kicking yourself. At exactly this point Stacey unfortunately took a tumble when she tripped over her own foot. She described falling to the ground in slow motion and landing on her elbow, hand and thigh. Lots of lovely kind runners stopped to see if she was okay, but Stacey was determined to continue, and I think it must have been a bit of adrenaline that kept her going as she had blood pouring out of her elbow. The marathon training and long distances meant that she had been keeping a really strong pace and wanted to carry on. Clearly a bit of Harrier spirit and grit! A little bleary–eyed and emotional about the whole experience, Stacey then nearly twisted her ankle on a cat's eye (Oh the perils of road running! Give us knee-deep mud, hidden tree roots and a ditch any day!). Super camaraderie from fellow runners and her own strength of character made her focus on all the positives  -although thoughts of a decent finish time now seemed out of reach.
Meanwhile, I had caught up with '6th lady' and had snuck in right behind her. Trying not to cough or make any sounds that would reveal myself as a woman (or a lady) I used her to get me up a hill then breezed past her on the downhill.  At 11.5 miles I spied '5th lady' with a blond ponytail and strong looking shoulders in the distance, maybe just a bit too far away to catch. After a bit of squinty eyed staring I concluded that she possibly looked a bit shorter than me, so I thought that I should just lengthen my stride and then every step would mean I was getting a little closer. It took a whole mile of hard effort to catch up and overtake her. Yippee! I was now the 5th lady!
The finish was brilliant. The crowds were 4 deep and the brass band were there again. Despite adversity, Stacey looked great as she came in, but carried on running across the finish and straight into the arms of a First Aider. Thankfully no broken bones, just swelling and a nasty graze. Plus – only around a minute away from her PB – despite being on the ground for 30 seconds! Stacey's fitness is going from strength to strength and everything bodes well for her marathon training. I was super pleased to be 5th lady and to take a whole 10 minutes off my previous PB.
It was most definitely a beautiful half with the most spectacular backdrop and well worth the drive. (In fact the A5 is an absolute pleasure between Betws-y-coed and Bethesda.) There was a brilliant atmosphere along the whole course and a really fun vibe at the finish. Stacey and I would both thoroughly recommend this race.
Stacey Marston: 1.53.23
Laura Gale: 1.30.54