Have you recently joined or perhaps you've been a member for some time but you're in need of some fresh Teal threads; get yourself along to Kit Night on Monday with Miriam! Wearing club kit gets you noticed at parkruns and races, and you may even feature on our social media channels* Instagram, Twitter, Facebook (public page), Facebook (closed group).
*please do let Stacey Marston know if you'd prefer any photos of you not to be used on our website or social channels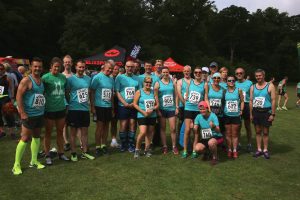 Bournville Harriers showing off their club vests at the recent Teal Target – Arden 9, thanks to Pete Hickman for the photo!