Join us at Rowheath Pavilion from 7:30pm on 7th December for a healthy Indian style seasonal dinner and Disco. Wear your Christmas jumper or t-shirt – the best and worst festive outfits will win a prize! Tickets ON SALE NOW!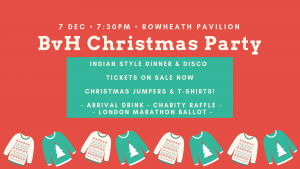 – Complimentary drink on arrival
– Assorted Gins at the bar
– Charity Raffle
– London Marathon Ballot Draw (entry details to follow)
Family and guests of BvH members welcome! There is a small nominal charge of £1 each for up to two children under 12 attending with a club member; please remember the safety (and entertainment!) of any under 18s attending is the responsibility of their accompanying adult.
Tickets on sale; click here: BvH Online Store. Tickets will be on sale until 1st December, NO entries on the night.
Menu
Canape platters – including onion bhajis, samosa, chaat and tandoori chicken wings served with a selection of chutneys
Main course – EITHER Slow-cooked Turkey Tikka Masala OR Goan Fish Curry OR Brinjal (Aubergine) Curry (vegan)
– Served with Chana Dhal, Brown Rice, Spiced Carrot, Brussels Sprouts, Parsnips, Raita and Bread
Dessert – White chocolate, clementine and cardamom trifle with chai spiced custard and mango jelly
(Please choose the correct ticket for your preference and include any specific dietary requirements in your comments in order that we can cater for your needs. To minimise food waste we will not over-cater, so it is important to clearly state any requirement on your ticket request and identify yourself to the catering team on arrival. Please add each ticket you require to your cart before proceeding to checkout.)