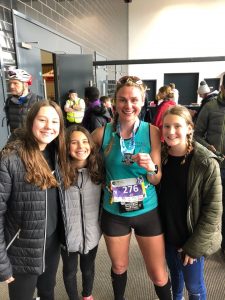 Congratulations to our latest winner of the exclusive Member of the Month pin badge, Jo Green. Jo was nominated for her encouragement of others and her participation in Teal Targets, XC races and Road Relays; showing that you can be an active and enthusiastic member of BvH even if you can't make it to club training sessions. She has been running for many years, and has still set six new PBs this year across distances from 5km to Marathon.
You can read Jo's responses to the MotM questionnaire and check out all the previous winners' responses here: http://bournvilleharriers.org.uk/member-of-the-month/
To nominate a future Member of the Month let Dave Powner or another member of the Committee know who you'd like to nominate along with your reasons. The Committee meets on the second Monday or every month and considers all nominations in line with the Club's four values; Performance, Participation, Encouragement and Enjoyment.