This week's route is King's Heath – Strava links for all routes are below.
Short route: 8.1km (5.1 miles)
Standard route: 9.8km (6.1 miles) shown below
Long route: 12.5km (7.8 miles)
For the Pre-Run Briefing, please follow the link below: http://bournvilleharriers.org.uk/club-training-sessions/pre-run-briefing/.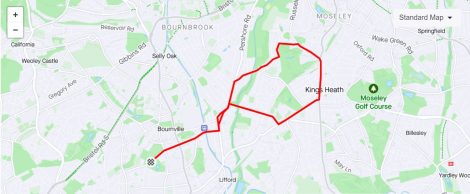 Sara Hewison will also be holding kit night, so visit her before your run to get all your winter running goodies! She has new Teal hoodies, high-vis tabbards, t-shirts and long-sleeved tops, and BvH bobble hats!