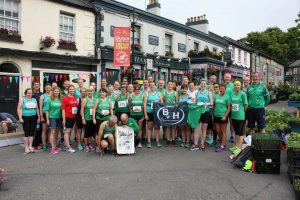 We are pleased to welcome a delegation from our twin club, Newbridge AC on 4th-5th August for our second club weekend, following the inaugural meeting in June 2017 when we were warmly welcomed by fellow runners at Newbridge AC and enjoyed the local Kildare Thoroughbred Races. The plans for the weekend are as follows:
3pm (ish) Saturday 4th August – Social Run (c. 3 miles) around Bournville, meeting at The Beeches
7 for 7:30pm Saturday 4th – The Country Girl, Selly Oak. An area has been reserved for dinner and drinks; to ensure we have enough space please update the poll on the shared Facebook group or email Stacey Marston.
Sunday 5th August – Cannock Chase 10k (race starts 10:30am, arrangements will be made for travel together sharing lifts from Rowheath/The Beeches).