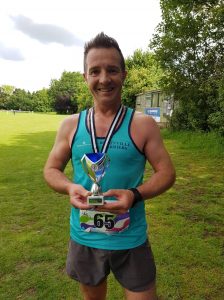 After a season of exceptional running, including PBs at 5km, parkrun, Half Marathon and Marathon, Paul Coughlan achieved his target in the Chester Marathon on 6th October – another Marathon PB of 2:47:10, taking 7 minutes off his previous best from earlier this year (and therefore his own Club MV50 Age Category Record) and coming first in his Age Category in the race. This performance earns him selection to represent England in the Masters team at the Yorkshire Marathon in October 2020 and an England vest! Click here to find out more about the Age Group Masters Competition programme.
Paul's Marathon time is the 5th best time for Bournville Harriers since Power of 10 records began, extending his lead in the marathon on this year's Performance Leaderboard, and takes his RunBritain Handicap down to an impressive 0.5.
Paul's achievement shows what can be achieved with hard work, dedication and the right advice and support; having been running for just three and a half years he has transitioned to this high standard. To give you an idea of the training involved he has already nearly hit 3000 miles during 2019, regularly running 80-100 miles per week. We're always delighted to see a Bournville Harrier swap their Teal vest to a different colour to represent their country, well done Paul and good luck in the 10km Masters Team selection in Telford!