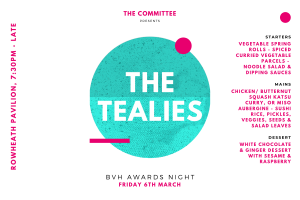 The BvH Awards Nominees have been announced; congratulations to everyone who has been nominated! The awards will be presented at the club's annual Awards Night, 'The Tealies', which will be held at Rowheath Pavillion on Friday 6th March at 7.30 pm.
The evening is always a highlight in the club's calendar and everyone (along with their families) is invited to celebrate the club's outstanding individual and collective achievements and reflect on the year.
Tickets are on sale now and include a Japanese inspired celebration menu as a nod to the upcoming Tokyo Olympics. Starters of Vegetable spring rolls, spiced curried vegetable parcels, noodle salad and dipping sauces; a Chicken or Butternut Squash Katsu curry; or Miso Aubergine (gluten free, vegan) served with sushi rice, pickles, veggies, seeds and salad leaves; and finally a white chocolate and ginger dessert with sesame and raspberry. Dietary requirements will be catered for; please note the requirements when you purchase your tickets. If you are purchasing tickets on behalf of other members please do make a note of their names in the comments.
The tickets are just £12 per person and include the chance to win a place in the Great Birmingham 10k, plenty of fun and memories of the year, the opportunity to spend time with clubmates on this special evening (and of course the Rowheath bar will be open!) The Committee hopes that many of you will be able to join us there, tickets will not be available to purchase 'on the door' so please buy your ticket in advance here: http://bournvilleharriers.bigcartel.com/product/bvh-awards-night-6-march-2020
We look forward to seeing you there!