LATEST: The Tour is complete! See the results here
After nearly two years of uncertainty due to Covid 19, the BVH TOUR is back!
The BVH Tour is a five-day running challenge: take part in a run over varying distances and terrains for five consecutive days. It's as simple as that! The times from each run will be added together and the person with the fastest overall time is the winner. There are various prizes up for grabs, including age categories.
Please express your interest in taking part in the tour by signing up here. You do not need to pay to run, but letting us know you're coming will help us prepare.
If you would like to volunteer to help the event go smoothly, that would be fantastic! Let us know, here.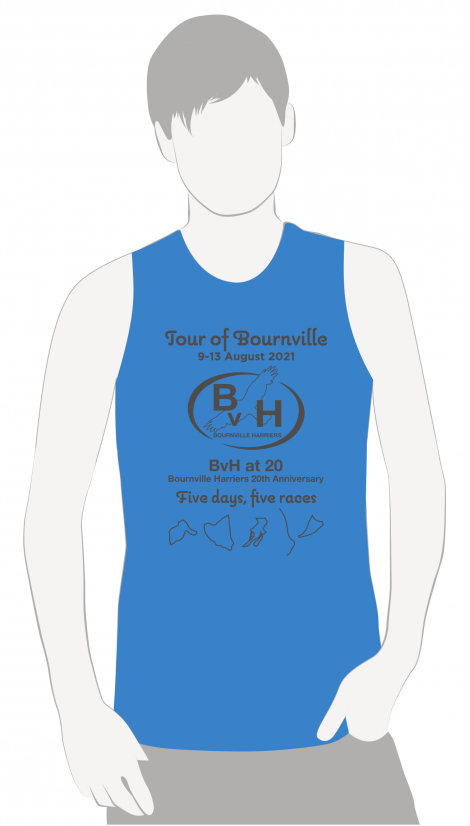 Exclusive Tour vests are available for just £12 here. Please order by midnight on Wednesday 4th to ensure your vest is ready for you to wear for the first race.
The BvH Tour is about testing yourself, pushing yourself and somewhere along the way having fun! This is open to all paid up BVH members, regardless of your age or perceived ability.
To get an insight into what the tour is all about, check out Dave Harte's review of the Tour back in 2008!
Itinerary 9th – 13th August 2021
Monday – 10k Multi Terrain, Rowheath, B30 1HH
Tuesday – 7 miles road hill run, The Peaock, B38 0EH
Wednesday – 4 miles XC, Manor Farm Park, B31 2AB
Thursday – 5 miles Canal run, Kings Norton Playing Fields, B30 3EU
Friday – 5k, Rowheath, B30 1HH. Plus food and awards!
All races start 7:00, although we invite runners with 10k times of over an hour, to set off in Wave 1 at 6:45. Please arrive early on the Monday at Rowheath to complete your registration and collect your vest if you have ordered one! Go straight the race locations on other days.
Routes (click image for Strava map)