Lesley Pymm reports:  I had not done this event for a few years as it had clashed with other things, but I decided to have a go this year.  I got in!  Entries closed in 10 days this year, so that was the first obstacle over.  It was the day after Leamington, which was a bit of a mud bath, but had nothing on the 'Slog'.
The course was different to last time I did it, but still pleanty of mud and slosh and people losing their shoes early on!  There was someone at race HQ with racing flats wondering if they would be OK – don't people read the info that goes out about races?  The run starts at Chipping Sodbury School at about 11.05.  There is the observance of the 2 minutes silence first and the playing of the last post.  This is always very moving as there are about 1,400 runners and all the supporters there and there is silence (apart from the odd dog or baby)!
The first part of the run is on road as we  get out of the town and then we are onto Sodbury Common.  I think this is where the first really wet bit is.  It was very wet and muddy and everyone was falling over eachother.  Really good fun, that mile took me over 18 minutes!  It then goes through Little Sodbury End and Tungrove Farm.  It climbs onto the Cotwold Way and passes Little Sodbury Manor and then on to the highest point which is the Roman ecampment at Old Sodbury at about 400ft.  It then drops down again to Hardwoodgate Farm and back onto the common to meet the road and back into town.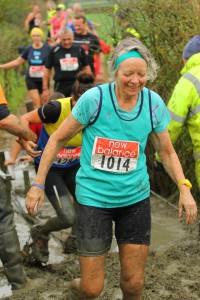 At some point on this run there was the 'sheep dip' – a short but deep and difficult crossing and the 'pig trough' – long and shallow water, not difficult until you get to the end and try to get out onto a wooden bridge with slippery shoes on!
I was surprised as I got closer to the end that I was passing a lot of people who were walking.  In fact, I was told off by a marshal for 'sprinting' at one stage on a muddy bit that others were struggling on!  I can't pretend that I was disappointed to finish.  I didn't have much left and was pleased to get to the end.
The technical T shirt was interesting and very colourful.  Useful goody bag – nickwax stuff!  I was very pleased to get to the showers later and get cleaned off!