Over 400km of #Parklife racing has been completed so far, with just one weekend to go. Will we hit 500km? If you're competing this weekend, submit your results here

Barrie Roberts and Lesley Pymm are key contributors so far with the most legs, and Alison Price has clocked up the greatest distance with an impressive 60km!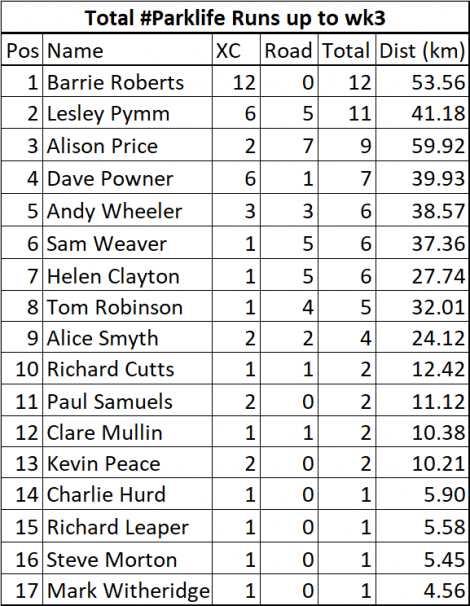 Andy Wheeler and Alison Price are the XC leaders, with close competition from Tom Robinson and Alice Smyth respectively.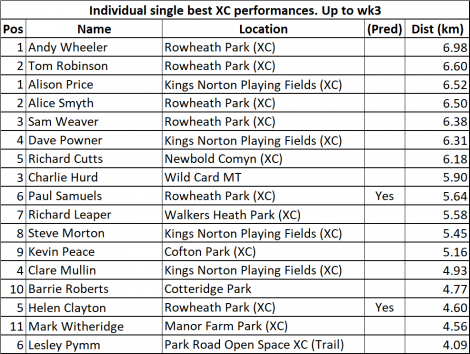 It's a similar sight atop the Road leaderboard, but this time with pressure from Sam Weaver.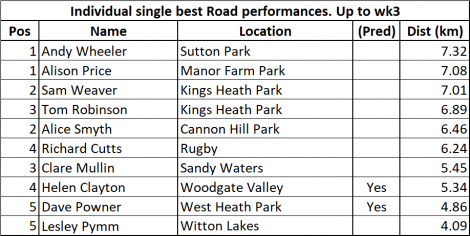 Helen Clayton maintains top position in the Predictions leaderboard, understandably finding it difficult to improve upon 0.6% deviation achieved in week 1, after a few more attempts.

We've got leaderboards for key locations frequented by BvH #Parklifers!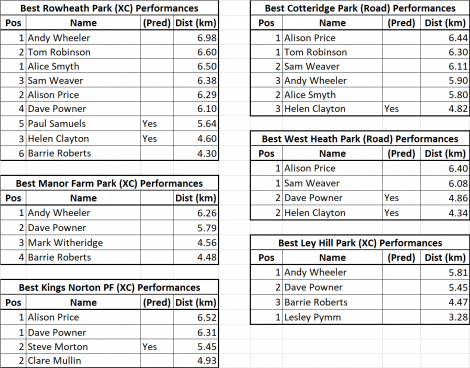 All 426km worth of results listed here! Sorted by location.
| | | | | |
| --- | --- | --- | --- | --- |
| Name | Type | Location | (Pred) | Dist(km) |
| Dave Powner | XC | Cofton Park | | 5.80 |
| Kevin Peace | XC | Cofton Park | | 5.16 |
| Barrie Roberts | XC | Cofton Park | | 4.58 |
| Barrie Roberts | XC | Cotteridge Park (XC) | | 4.77 |
| Barrie Roberts | XC | Grove Park | | 4.70 |
| Lesley Pymm | XC | Handsworth Park | | 3.46 |
| Barrie Roberts | XC | Hazelwell Park | | 4.18 |
| Alison Price | XC | Kings Norton Playing Fields | | 6.52 |
| Dave Powner | XC | Kings Norton Playing Fields | | 6.31 |
| Steve Morton | XC | Kings Norton Playing Fields | Yes | 5.45 |
| Clare Mullin | XC | Kings Norton Playing Fields | | 4.93 |
| Andy Wheeler | XC | Ley Hill Park | | 5.81 |
| Dave Powner | XC | Ley Hill Park | | 5.45 |
| Barrie Roberts | XC | Ley Hill Park | | 4.47 |
| Lesley Pymm | XC | Ley Hill Park | | 3.28 |
| Alice Smyth | XC | Lickey Hills Park | | 5.36 |
| Andy Wheeler | XC | Manor Farm Park | | 6.26 |
| Dave Powner | XC | Manor Farm Park | | 5.79 |
| Dave Powner | XC | Manor Farm Park | | 5.62 |
| Mark Witheridge | XC | Manor Farm Park | | 4.56 |
| Barrie Roberts | XC | Manor Farm Park | | 4.48 |
| Richard Cutts | XC | Newbold Comyn | | 6.18 |
| Lesley Pymm | XC | Park Road Open Space XC (Trail) | | 4.09 |
| Lesley Pymm | XC | Perry Hall Park | | 3.83 |
| Lesley Pymm | XC | Perry Park | | 3.62 |
| Barrie Roberts | XC | Queens Park Harborne | | 4.57 |
| Lesley Pymm | XC | Questett Nature Reserve | | 3.41 |
| Andy Wheeler | XC | Rowheath Park | | 6.98 |
| Tom Robinson | XC | Rowheath Park | | 6.60 |
| Alice Smyth | XC | Rowheath Park | | 6.50 |
| Sam Weaver | XC | Rowheath Park | | 6.38 |
| Alison Price | XC | Rowheath Park | | 6.29 |
| Dave Powner | XC | Rowheath Park | | 6.10 |
| Paul Samuels | XC | Rowheath Park | Yes | 5.64 |
| Paul Samuels | XC | Rowheath Park | Yes | 5.48 |
| Helen Clayton | XC | Rowheath Park | Yes | 4.60 |
| Barrie Roberts | XC | Rowheath Park | | 4.30 |
| Barrie Roberts | XC | Selly Oak Park | | 4.48 |
| Barrie Roberts | XC | Selly Oak Park | | 4.46 |
| Barrie Roberts | XC | Victoria Park Northfield (XC) | | 4.15 |
| Richard Leaper | XC | Walkers Heath Park | | 5.58 |
| Kevin Peace | XC | Walkers Heath Park | | 5.05 |
| Charlie Hurd | XC | Wild card | | 5.90 |
| Barrie Roberts | XC | Woodlands Park | | 4.42 |
| Lesley Pymm | Road | All Saints Park | | 4.01 |
| Tom Robinson | Road | Arrow Valley Park | | 6.67 |
| Alison Price | Road | Brookvale Park | | 7.02 |
| Lesley Pymm | Road | Brookvale Park | | 4.02 |
| Alison Price | Road | Cannon Hill Park | | 6.66 |
| Alison Price | Road | Cannon Hill Park | | 6.66 |
| Alice Smyth | Road | Cannon Hill Park | | 6.46 |
| Tom Robinson | Road | Cannon Hill Park | Yes | 5.55 |
| Alison Price | Road | Cotteridge Park | Yes | 6.44 |
| Tom Robinson | Road | Cotteridge Park | | 6.30 |
| Sam Weaver | Road | Cotteridge Park | | 6.11 |
| Andy Wheeler | Road | Cotteridge Park | | 5.90 |
| Alice Smyth | Road | Cotteridge Park | | 5.80 |
| Helen Clayton | Road | Cotteridge Park | Yes | 4.82 |
| Helen Clayton | Road | Cotteridge Park | Yes | 4.33 |
| Sam Weaver | Road | Kings Heath Park | | 7.01 |
| Tom Robinson | Road | Kings Heath Park | | 6.89 |
| Alison Price | Road | Kings Norton Park | | 6.40 |
| Sam Weaver | Road | Kings Norton Park | | 6.08 |
| Helen Clayton | Road | Kings Norton Park | Yes | 4.34 |
| Alison Price | Road | Manor Farm Park (Road) | | 7.08 |
| Lesley Pymm | Road | Red House Park | | 3.48 |
| Richard Cutts | Road | Rugby | | 6.24 |
| Clare Mullin | Road | Sandy Water Park | | 5.45 |
| Andy Wheeler | Road | Selly Oak Park | | 6.30 |
| Lesley Pymm | Road | Summerfield Park | | 3.89 |
| Andy Wheeler | Road | Sutton Park | | 7.32 |
| Alison Price | Road | Sutton Park | | 6.76 |
| Alison Price | Road | West Heath Park | | 6.75 |
| Sam Weaver | Road | West Heath Park | | 5.07 |
| Dave Powner | Road | West Heath Park | Yes | 4.86 |
| Helen Clayton | Road | West Heath Park | Yes | 4.31 |
| Lesley Pymm | Road | Witton Lakes | | 4.09 |
| Sam Weaver | Road | Woodgate Valley | | 6.71 |
| Helen Clayton | Road | Woodgate Valley | Yes | 5.34 |